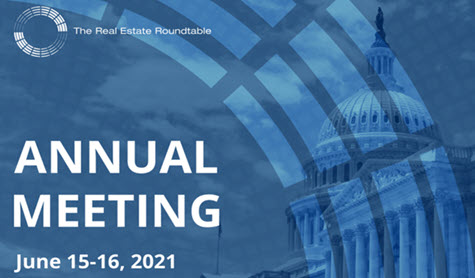 National lawmakers and industry leaders this week discussed a wide range of policy issues – including cybersecurity, infrastructure, climate, taxes, and post-pandemic reopening of businesses – during The Real Estate Roundtable's 2021 Annual Meeting, where John F. Fish (Chairman and CEO, Suffolk) was elected as Roundtable Chair, effective July 1. (Watch Incoming Chair Fish's remarks)
Leadership:
Policy Issues & Featured Speakers
Sen. Chris Coons (D-DE) discussed the administration's infrastructure proposal, aid for low-income renters, and more.
Sen. Ben Sasse (R-NE) focused on bipartisan congressional efforts on infrastructure, return-to-work issues, and national security threats.
White House National Climate Advisor Gina McCarthy, above, and Roundtable Sustainability Policy Advisory Committee Chair Tony Malkin (Chairman, President and Chief Executive Officer, Empire State Realty Trust) focused on the commercial real estate industry's role in climate policy. (watch the discusssion)
Rep. Stephanie Murphy (D-FL) discussed tax policies that could encourage economic recovery and avoid unintended consequences.
"Current Market Challenges and Coming Opportunities" – above – featured the following industry leaders in a discussion on challenges facing markets during a recovering economy, reopening strategies, and cybersecurity concerns for CRE: (watch the discussion)

Thomas M. Flexner (Vice Chairman and Global Head of Real Estate, Citigroup)
Kathleen McCarthy (Global Co-Head of Blackstone Real Estate)
Mark J. Parrell (President & Chief Executive Officer, Equity Residential) and
Owen D. Thomas (Chief Executive Officer, Boston Properties)
Policy Advisory Committees
Sustainability Policy Advisory Committee (SPAC) – above
The outlook for energy efficiency legislation was a focus of discussion with key Hill staff representing Senator Jeanne Shaheen (D-NH). Additionally, officials from the Department of Energy's Better Buildings initiative and the Environmental Protection Agency's ENERGY STAR program updated SPAC.
Research and Real Estate Capital Policy Advisory Committees (RECPAC)
Sen. Steve Daines (R-MT) discussed the importance of enacting measures to encourage job creation and pro-growth tax policy, and the importance of developing a clear strategy to address global and national security threats, including cyber and ransomware attacks.
Tax Policy Advisory Committee (TPAC)
Tax legislative priorities affecting CRE were the focus of discussion with congressional staffers – including proposals to eliminate or limit the use of carried interest and Like-Kind Exchanges, along with increasing the capital gain rate.
Homeland Security Task Force (HSTF) and Risk Management Working Group (RMWG)
This joint meeting was briefed on "Civil Unrest: Challenges for Communities" by Terry Monahan, Senior Advisor for Recovery and Safety Planning for New York City – and an FBI official discussed the current threats of ransomware and cyber challenges.
The Roundtable's 2021 Annual Report will be distributed in July. Next on The Roundtable's Meeting Calendar is the Oct. 5 Fall Meeting in Washington, DC. (Roundtable-level members only)
# # #