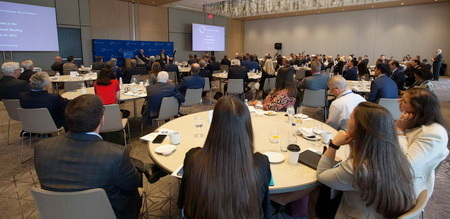 The Roundtable's 2022 Annual Meeting in Washington, DC this week focused on key policy issues affecting the commercial real estate industry—including inflation and interest rates; prospects for a scaled-back Build Back Better (BBB) Act; proposed climate risk disclosure rules; and a new industry Equity, Diversity, and Inclusion initiative.
Policy Focus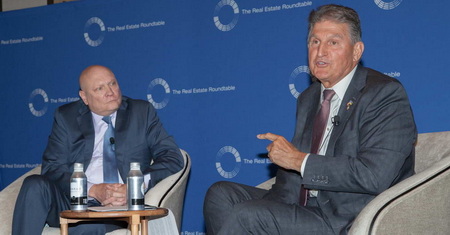 Roundtable President and CEO Jeffrey D. DeBoer, left, launched the June 16 business meeting with an overview of The Roundtable's Policy Agenda and newly released 2022 Annual Report, Building a More Resilient and Dynamic Future. Annual Meeting guests included:
Supplier Diversity & CRE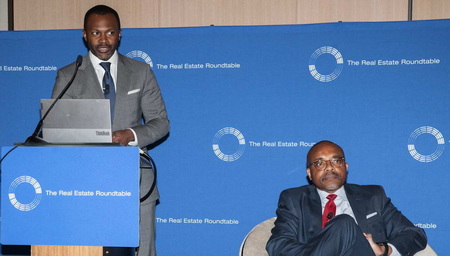 The Annual Meeting also included an initiative of The Roundtable's Equity, Diversity, and Inclusion (ED&I) Committee, chaired by Jeff T. Blau (Chief Executive Officer and a partner of Related Companies).
A proposed two-year pilot program was discussed with SupplierGATEWAY—a firm that assists companies interested in hiring Minority- and Women-Business Enterprises (MWBEs) as contractors, service providers, JV partners, and other "vendors" in their "supply chains." (Photo: SupplierGATEWAY's Rock Irvin, left, Chief Commercial Officer, with Adenuga Solaru, Chief Executive Officer)
The proposed online SupplierGATEWAY portal would support CRE firms interested in accessing a broad and centralized MWBE vendor database, posting hiring opportunities for those contractors, and utilizing tools to assist with corporate ESG reports.
SupplierGATEWAY's executives demonstrated a CRE-specific "prototype" of their MWBE management portal that could be available by the fall for companies who may subscribe to the service.
For more information regarding The Roundtable's supplier diversity initiative, contact Roundtable Senior Vice President and Counsel, Duane Desiderio (ddesiderio@rer.org).
CRE Markets & Policy Advisory Committees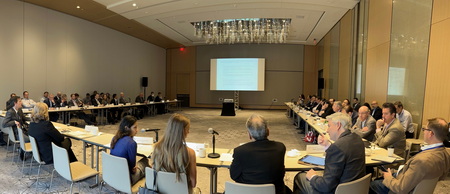 The Roundtable's Policy Advisory Committee leadership discussed their policy issue activities during the business meeting and referred to a Policy Issues Toolkit for background information on how key issues impact commercial real estate (see Executive Summary). Each committee met in conjunction with the Annual Meeting to address the following:
Next on The Roundtable's calendar is the Sept. 20-21 Fall Meeting (Roundtable-level members only).
# # #