Roundtable Weekly
Benjamin V. Lambert, Eastdil Secured Chairman, Transformed Industry Advocacy
February 6, 2021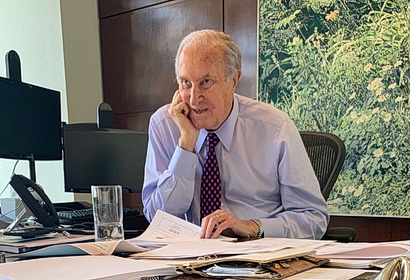 Benjamin V. Lambert – an industry icon who served as Chairman of Eastdil Secured and as former Chair of The National Realty Committee (predecessor of The Real Estate Roundtable) – passed away the weekend of Jan. 30. (Commercial Observer, Feb. 2 and TheRealDeal, Feb. 1)
"Ben Lambert's leading role in modernizing commercial real estate finance is well known" said Jeffrey DeBoer, Roundtable President and CEO. "Less well known is the profound influence Ben had on industry advocacy efforts in Washington. He was a Founding Member and later Chairman of The National Realty Committee (NRC) – the organization that evolved to become The Real Estate Roundtable – and many of his early advocacy principles, such as industry unification across product type, remain traits of the Roundtable to this day. We will miss him but we will not forget him."


A Jan. 31 email by Eastdil Secured's CEO Roy Hilton March and President D. Michael Van Konynenburg sent to friends and clients stated, "Ben was a true father-like figure to many of us, and we will miss his wisdom, warmth, leadership and love. In a tough, high stakes environment, Ben never had a bad word to say about anyone." They added that a future ceremony may be held in honor of Mr. Lambert when large gatherings are deemed safe again.


(Mr. March serves on The Roundtable's Board of Directors and Mr. Van Konyenburg is also a Roundtable Member.)


Lambert founded Eastdil in 1967, bringing a Wall Street investment banking approach to real commercial real estate for more than 50 years. He was the chief financial negotiator in the 1977 sale of Irvine ranch in California and structured the financing of San Francisco's Embarcadero Center and the MacArthur Foundation apartment portfolio. He also led some of the largest transactions in the country, including the sale of Chicago's Willis Tower and New York City's General Motors.
Among his many affiliations beyond Eastdil, he served on the board of trustees for Brown University and the Silver Shield Foundation and was a Founder and Chairman of the Harlem Day Charter School.
# # #