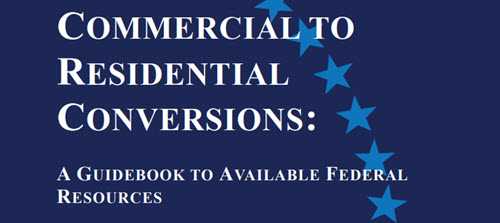 The Biden administration today revealed a suite of federal resources—including low-interest loans—to assist commercial to residential conversions that increase housing supply, revitalize urban downtowns, and cut climate pollution. (White House fact sheet; Bloomberg, Oct. 27).
Holistic Federal Strategy
Roundtable President and CEO, Jeffrey D. DeBoer said, "The pandemic's indelible impact on where Americans live and work continues to reverberate through the real estate industry, which is at the center of this societal transition. The Roundtable supports innovative policy that reimagines the adaptive reuse of CRE, rejuvenates affordable housing and urban downtowns, and addresses the climate crisis. The guidance released by the White House today checks all these boxes—and bolsters our agenda to improve the health of our cities, local tax bases, and small businesses."
Transit-oriented projects supported by TIFIA and RRIF financing do not require affordable housing units—although they can be "stacked" with projects supported by low-income housing tax credits and local laws may have independent inclusionary zoning mandates. (FAQs on project eligibility)
The White House announcement also directs the General Services Administration (GSA) to identify "surplus" federal properties that private developers may help to convert to housing.
A fact sheet summarizing the administration's actions indicates that training workshops will be held this fall for real estate owners, developers, and lenders on how to use federal programs included in the White House's new "Commercial to Residential Conversions" guidebook, which describes how 20 programs across six federal agencies can be used to support adaptive re-use projects.
The Administration's guidebook also explains how mortgage insurance and grants from the Department of Housing and Urban Development (HUD) can leverage state, local, and private sector capital as layers in the capital stack to support adaptive reuse.
Adaptive Reuse a "Win-Win"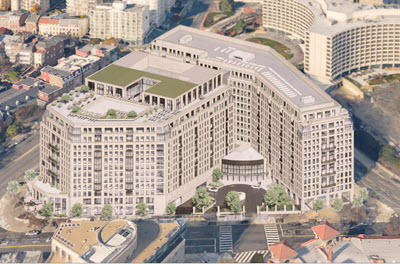 Real estate market conditions with high office vacancies "present[ ] an area of opportunity to increase housing supply while revitalizing Main Streets," said National Economic Council Director Lael Brainerd. "It's a win-win." (POLITICOPro, Oct. 27) (WH Council of Economic Advisors blog post)
White House efforts to assist property conversions lands as national office vacancy stands at nearly 18 percent—with some major metro areas experiencing vacancies higher than one-fifth of their entire inventory—according to a report from analytics firm Yardi Matrix released on Thursday. (Commercial Observer, Oct. 26)
Architectural firm Gensler released a report on Monday that estimates 25% of under-performing U.S. office properties are suitable candidates for conversion projects.
The initiative builds on the Biden Administration's announcement last July to boost the nation's housing supply. (Roundtable Weekly, July 28). The Roundtable will continue to serve as a conduit between our members and the Biden Administration to help design impactful policies that can assist with office to residential conversions.
# # #