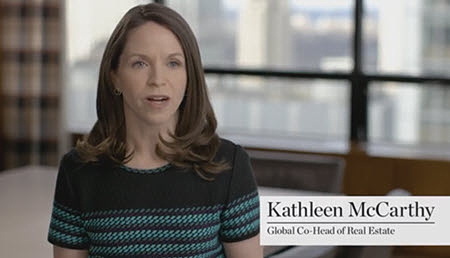 Blackstone on Jan. 14 announced a $1 billion commitment to help address affordable housing challenges often faced by low-to-moderate-income families in historically under-represented communities. Blackstone's single-family rental company Home Partners of America will expand their private sector program called Choice Lease, which offers qualified applicants below market rents and paths to homeownership without government subsidies. (Bloomberg, Jan. 14)
An Affordable Housing Solution
Kathleen McCarthy, above, Global Co-Head of Blackstone Real Estate and Real Estate Roundtable Board Member, said, "The lack of housing supply is a national crisis. We are proud to support Home Partners' mission of addressing housing access and affordability while also providing underserved populations with a new path to homeownership. Blackstone's scale and long-term capital make a program like this possible." (GlobeSt, Jan. 18)


Home Partners intends to use the Blackstone funds for purchasing approximately 4,000 homes over the next two years that will benefit eligible individuals and families facing challenges to homeownership, including lower credit scores and lack of savings. (News release, Jan. 14)


Bill Young, co-founder and CEO of Home Partners of America, said, "Our Choice Lease program is providing a critical service to many who would not otherwise be able to access the housing market. We are grateful that our partners at Blackstone have provided the support needed to implement this initiative. We have a unique opportunity to drive change that will help these groups access quality homes while providing a clear and transparent path to homeownership."
Program Details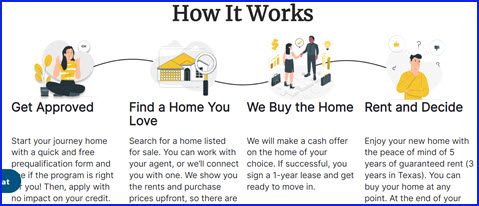 Bloomberg reports that Home Partners buys a home on behalf of its Choice Lease client, and rents it back on a series of one-year leases. Blackstone confirmed that throughout the lease, the tenant has the option to purchase the house at any time.


Choice Lease's rental and purchase options, as well as free financial education and counseling programs, come as a housing shortage pushes rents and purchase prices higher throughout the United States. (National Mortgage Professional, Jan. 17)
Choice Lease is intended for households who earn 80% or less of the area median income. The program also offers residents rental rates 10% lower than market rates – and caps a home's eventual purchase price at a 3.5% annual increase. (Information on the Choice Lease Program and Chicago Agent Magazine, Jan. 17)

Home Partners has implemented Choice Lease in four metropolitan areas, including Atlanta and Phoenix, and is expanding the program to thirteen other markets. (Bloomberg, Jan. 14)
The affordable housing shortage is one of the most important and complex political problems in America, and The Roundtable continues to work with our national real estate organization partners to jointly advocate for policies that will help to enhance the supply of safe, affordable housing.
# # #