A coalition of trade organizations that includes The Real Estate Roundtable asked the IRS yesterday to issue regulatory guidance clarifying that unrealized gains and losses are not subject to tax under the new corporate alternative minimum tax (CAMT). Enacted under the Inflation Reduction Act of 2022, CAMT levies a 15% minimum tax on the adjusted financial statement income (book income) of certain large corporate taxpayers. (Coalition letter, March 15)
CAMT Implementation
Starting this year, the CAMT applies to firms with an average of $1 billion or more in profits in any three-year period and to foreign-parented U.S. firms with profits of over $100 million if the aggregated foreign group has over $1 billion in profits. Congress expressly exempted REITs from the tax. (Congressional Research Service, Jan. 19, 2023)


The coalition's comments respond to a Dec. 27, 2022 IRS Notice (2023-7) that states Treasury may issue future guidance intended "to help avoid substantial unintended adverse consequences" from the interaction of mark-to-market accounting and the CAMT. Congress granted the Treasury Secretary substantial regulatory authority to implement the new tax. (Debevoise & Plimpton, Jan. 3 and Gibson Dunn, Jan. 6)
Coalition Weighs In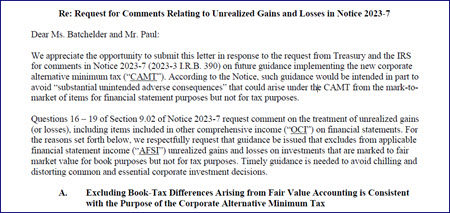 The coalition, which includes the American Investment Council, the U.S. Chamber of Commerce, and others, emphasized in its comments that providing a comprehensive exclusion for unrealized gains and losses that are marked-to-market for book purposes would be consistent with the legislative intent of the CAMT—and Congress's rejection of prior proposals to tax unrealized gains.


The coalition's comments note that Treasury's clarification would help avoid a patchwork of unprincipled and ad hoc rules that leave certain categories of unrealized gains and losses subject to tax. The result could distort investment decisions, create a disincentive for taxpayers to elect fair value accounting, and force taxpayers to sell real estate and other assets or borrow money to pay their taxes.
The Roundtable's Tax Policy Advisory Committee (TPAC) and its partner organizations will continue to work with federal regulators on the CAMT guidance to prevent the unintended taxation of unrealized real estate gains and losses.
# # #