The commercial real estate industry mourns the recent passing of real estate industry icon Marshall Bennett. He was 97. (Chicago Tribune, Oct. 16)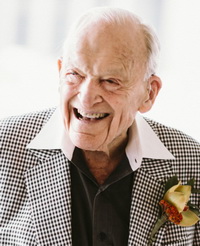 Commercial real estate industry icon Marshall Bennett passed away this week at the age of 97.
Marshall Bennett was one of the most successful real estate developers in Chicago and a pioneer of the modern industrial park. In 1946, Bennett and Louis Kahnweiler, with financial backing from Jay Pritzker, launched Centex Industrial Park in the 1950s on more than 2,000 acres in Elk Grove Village—opening up the O'Hare submarket to large, industrial properties. This facility would become the nation's largest and serve 1,500 companies. Throughout their partnership, Bennet and Kahnweiler amassed a portfolio of 26 industrial parks around the country. (RE Journals, Oct. 16)
Among his many accomplishments, Bennett was a World War II Navy veteran; was inducted into the Chicago Board of Realtors Hall of Fame in 1989; and served on the board of the East-West Institute global think tank. He also co-founded the Chicago Ten, an interfaith group that worked for peace in the Middle East.
Notably, Bennett co-founded Roosevelt University's Marshall Bennett Institute of Real Estate in 2002. He helped raise $11 million to start the school as a training ground for real estate professionals. Since its inception, the program has graduated almost 325 in two master's degree programs. (Crain's Chicago Business, Oct. 15)