Roundtable Weekly
Congress Extends Government Funding Until February 18, Faces Debt Ceiling Deadline; Senators Begin Consideration of Build Back Better Act
December 4, 2021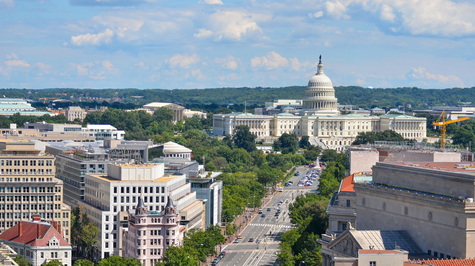 A Continuing Resolution (CR) that would fund the government until Feb. 18 passed the House yesterday and the Senate last night, sending the bill to President Biden for his signature to avoid a partial government shutdown at midnight. (CNBC, Dec. 2). Senate leaders this week also continued negotiations to extend the national debt ceiling to avoid default and began discussions about potential changes to the House-passed $1.7 trillion Build Back Better (BBB) Act. [Further Extending Government Funding Act (H.R. 6119) and section-by-section summary]
Debt Ceiling Looms
Treasury Secretary Janet Yellen and the Congressional Budget Office this week urged Congress to increase the debt ceiling as soon as possible to avoid a national default in December. (Bloomberg, Nov. 30)
Yellen testified Monday before the Senate Banking Committee about the need to increase the debt limit. She stated, "If we do not, we will eviscerate our current recovery. In a matter of days, the majority of Americans would suffer financial pain as critical payments, like Social Security checks and military paychecks, would not reach their bank accounts, and that would likely be followed by a deep recession." (The Hill, Nov. 30 and Yellen testimony)
Senate Majority Leader Chuck Schumer (D-NY) and Senate Minority Leader Mitch McConnell (R-KY) expressed optimism this week about their discussions to raise the federal government's $28.9 trillion debt limit soon. (Reuters, Nov. 30)
BBB Act & Tax Issues
Green Energy Provisions
The Senate this week also began consideration of the BBB Act following the House's passage of the multitrillion-dollar legislation on Nov. 19. Clean energy tax credits make up the most significant portion of the BBB Act's climate policies.
Schumer and Senate Energy and Natural Resources Chair Joe Manchin (R-WV) met this week to discuss climate policies in the House package. E&E News reported, "Manchin said he is negotiating 'adjustments' to the energy and climate provisions of his party's $1.7 trillion social spending bill, in what could be part of a larger suite of changes to the legislation as it moves through the Senate."
The Roundtable on Nov. 16 sent a letter to congressional tax writers detailing five recommendations that would improve green energy tax provisions in the BBB Act affecting real estate. (Roundtable Weekly, Nov. 19)
The letter's recommendations, listed below, would increase and scale deployment of low- and zero-carbon technology in the nation's commercial and multifamily building infrastructure.
Clarify that "thermal energy storage systems" are eligible for incentives under the Section 48 Investment Tax Credit.
Further revise the 30C tax credit to support EV chargers in the non-public, but widely used, parking lots and garages that serve America's residential and business tenants who seek to conveniently "charge-up" while at home or at work.
Better align the BBB Act with the Biden Administration's long-term climate strategy – by providing accelerated depreciation and other incentives for heat pumps and other components that "electrify" commercial and multifamily buildings.
Induce more "retrofits" of aging buildings by allowing taxpayers to claim the 179D deduction in the year high-efficiency equipment is placed in service.
The inclusion of Davis-Bacon and apprenticeship hiring will seriously undermine climate goals – because the high costs to comply with these labor standards will more than offset the BBB Act's "bonus rates" for clean energy projects. Congress should not hinge the "bonus rates" on unrelated labor issues that fail to accelerate achievement of GHG reduction strategies.
Fiscal policy, the BBB Act and how it may affect tax and climate issues of importance to CRE will be topics for discussion at The Roundtable's Jan. 25-26 State of the Industry Meeting in Washington, DC.
# # #