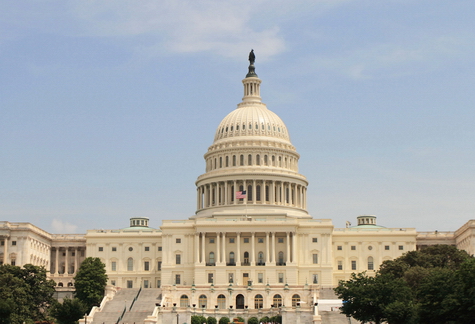 A bipartisan spending deal to fund the government before a Dec. 20 deadline has been agreed to in principle, with details and a vote expected next week, according to top congressional lawmakers. During the year-end policy rush to attach other legislation to the must-pass spending bill, The Roundtable and a diverse business coalition on Dec. 11 urged Congress to extend the Terrorism Risk Insurance Act (TRIA) for 7 years by passing S. 2877.
After rounds of funding negotiations between leaders of Senate and House appropriators this week, House Speaker Nancy Pelosi (D-CA) and Treasury Secretary Steven Mnuchin, House Appropriations Chairwoman Nita Lowey (D-NY) on Thursday reported, "There's a meeting of the minds." (Wall Street Journal, Dec. 12 and The Hill)


"Let me say in no uncertain terms, nobody wants to have a government shutdown," said Sec. Mnuchin. (Bloomberg Tax, Dec. 12)


Funding for the National Flood Insurance and EB-5 investor programs are currently operating under a four-week spending bill signed by President Trump on Nov. 21. If a new round of funding is not agreed to by policymakers, the programs will shutdown on Dec. 21. (Roundtable Weekly, Nov. 22)


The spending agreement would avert a shutdown by spreading nearly $1.4 trillion in discretionary government spending over a dozen appropriations bills for FY2020, which ends Sept. 30, 2020. The specific bills are likely to be unveiled Monday. (BGov, Dec. 13)


The contentious issue of funding for border wall along the Mexican border, which led to a 35-day government shutdown last year, is reportedly part of an agreement on immigration issues. The spending deal would provide the same funding for the border wall that Congress offered for fiscal year 2019 – $1.375 billion, instead of $5 billion requested by the White House. (Roll Call, Dec. 12)


A flurry of policy developments this week may result in lawmakers agreeing to the massive funding bill, a U.S.-Mexico-Canada trade agreement and a Phase One Deal with China.
As lawmakers work to assemble the final spending package to pass by Dec. 20, several other measures – including a seven-year TRIA reauthorization and tax extenders – may compete for inclusion in the final "omnibus" bill.
Roundtable Urging TRIA Reauthorization
On Dec. 11, The Roundtable and a diverse business coalition sent a letter to all members of the Senate urging action on the Terrorism Risk Insurance Program Reauthorization Act of 2019 (S. 2877) as soon as possible. The Senate bill would extend TRIA for seven years, "allowing the program to continue providing vital economic protections against acts of terrorism that companies throughout the nation rely on," according to the letter.
The letter also notes, "Since its initial enactment in 2002, TRIA has served as a vital public-private risk sharing mechanism, ensuring that private terrorism risk insurance coverage remains available to commercial businesses, educational institutions and non-profit organizations at virtually no cost to the taxpayer."


A seven-year TRIA reauthorization passed the House on Nov. 18 (H.R. 4634) as the Senate Banking Committee advanced a similar bill (S. 2877) on Nov. 20. (Roundtable Weekly, Nov. 22)


Last week, The Roundtable and its partners in the Coalition to Insure Against Terrorism (CIAT) urged Senators to include the TRIA reauthorization in a possible year-end spending package. (CIAT Letter, Dec. 2)


Roundtable President and CEO Jeffrey DeBoer commented on the importance of TRIA in a Dec. 12 Bisnow article on "5 Policy Issues That Could Affect Commercial Real Estate In 2020."


"The reason it's important is you want your assets, the property and potential damage to be covered by insurance, but you also want the people in your building to be covered by insurance if, God forbid, something happened," DeBoer said. "If you don't have all risk coverage on your asset, typically it's very difficult to get financing for that asset from a bank or pension fund."


"We're optimistic we can get it done before the end of 2019," he said. "If that does not happen, our top priority in 2020 will be to extend TRIA and maintain that Act." (Bisnow, Dec. 12)
House Majority Leader Steny Hoyer (D-MD) said yesterday that a final omnibus containing the spending bill and other measures may be grouped into two packages and voted on Tuesday. Congress is expected to adjourn for the holiday recess by Dec. 20. (The Hill, Dec. 12)
# # #