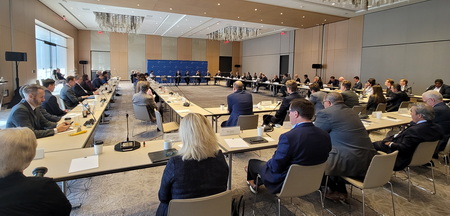 Industry leaders and national policymakers met this week for The Roundtable's fall meeting to discuss the U.S. political and economic environment, including issues such as inflation, housing, labor shortages, climate change, and November's midterm elections. (Roundtable Executive Policy Summary and Policy Issue Profiles)
National Policy Issues & CRE
Speakers at The Roundtable's Sept. 20-21 meeting included: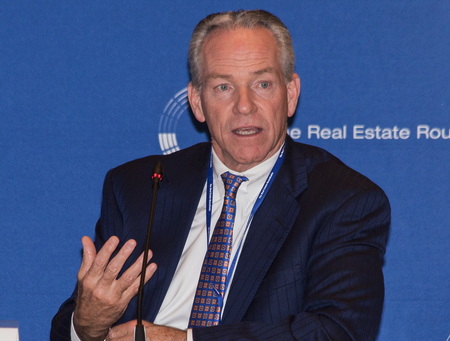 Roundtable Chair John Fish (Chairman & CEO, SUFFOLK), above, and President and CEO Jeffrey DeBoer opened the meeting with an overview of The Roundtable's efforts to shape the Inflation Reduction Act (IRA) that passed last month, and how the new law's tax and sustainability provisions impact CRE. (Watch John Fish's opening remarks | Roundtable Weekly, Aug. 12)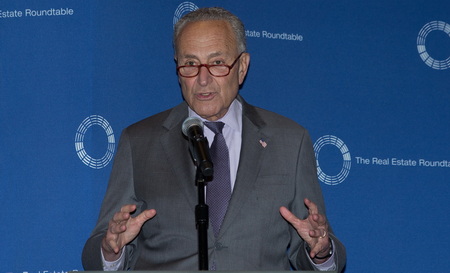 Senate Majority Leader Chuck Schumer (D-NY) also discussed the IRA and a string of other recent legislation—including bipartisan success on infrastructure spending, investments in U.S. manufacturing, and overhaul of the EB-5 investment program. He also raised the importance of immigration reform and Congress's current focus to pass a funding resolution by Sept. 30 to avoid a government shutdown.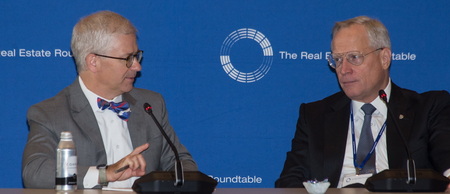 Rep. Patrick McHenry (R-NC), left, Ranking Member of the House Financial Services Committee, and Roundtable Board Member Ross Perot, Jr., right, (Chairman, Hillwood), discussed affordable housing supply problems, steps to counter local NIMBY opposition, and the need to develop a prudent economic policy response to prepare for future pandemic risks.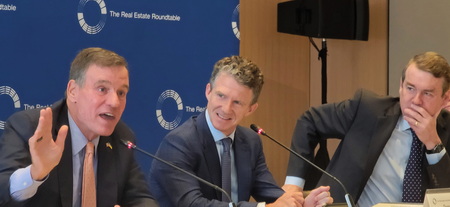 Sens. Michael Bennet (D-CO), right, and Mark Warner (D-VA), left, joined Willy Walker, center, (Chairman & CEO, Walker & Dunlop), to discuss supply chain issues, the war in Ukraine, and the importance of GSE reform.
Clean Energy
Economic Conditions & Political Landscape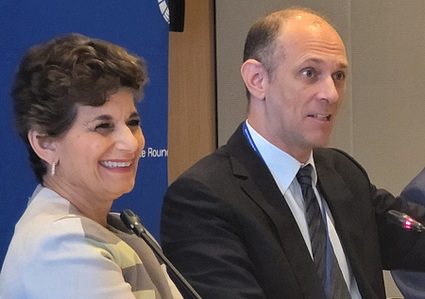 Dr. Austan Goolsbee, right, (former Chairman, White House Council of Economic Advisors) and The Roundtable's Immediate Past Chair Debra Cafaro (Chairman & CEO, Ventas, Inc.) focused on inflationary pressures, labor shortages, return-to-office issues, and a new era of deglobalization.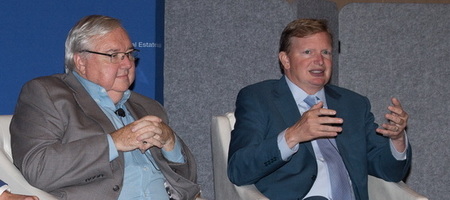 A "fireside chat" with Jim Messina, right, (former President Obama's Deputy Chief of Staff) and Barry Jackson, left, (former House Speaker John Boehner's Chief of Staff) offered an overview of the current state of U.S. politics and a preview of the upcoming midterm elections.
Next on The Roundtable's meeting calendar is the all-member State of the Industry Meeting on Jan. 24-25, 2023 in Washington, where The Roundtable will unveil its 2023 Policy Agenda.
# # #