Roundtable Weekly
Debt Ceiling Talks Inch Forward as Republicans, Democrats Prioritize Permitting Reform for Energy Projects
May 12, 2023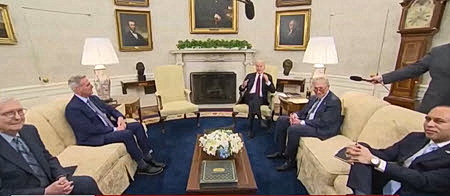 A May 9 meeting between President Joe Biden and the "Big Four" congressional leaders about the debt ceiling and federal spending ended with little progress—yet the policymakers agreed to meet early next week as their respective staffs begin separate budget discussions. (The Hill, May 11 and Axios May 9 | Roundtable Weekly, May 5)
Talks Begin
As the "X date" for defaulting on the national debt looms in June, House Speaker Kevin McCarthy (R-CA), Senate Minority Leader Mitch McConnell (R-KY), Senate Majority Leader Chuck Schumer (D-NY), and House Minority Leader Hakeem Jeffries (D-NY) met to discuss raising the $31.4 trillion U.S. debt limit with President Biden, who described the gathering as "productive." (Associated Press and Reuters, May 10)


McCarthy commented he "didn't see any new movement," but added he was willing to discuss spending cutbacks such as clawing back funding for pandemic programs. He added that Biden may also be open to discussing permitting reform for energy infrastructure projects, though the two parties are far apart on the specifics of their legislative proposals. (Washington Post and CNN, May 10 and BGov, May 9)
Energy Infrastructure Priorities
POLITICO reports that streamlining the process to permit energy infrastructure projects is "one of the GOP's biggest debt limit priorities"—while the Biden administration insists that the two must be de-coupled as part of negotiations to raise the nation's borrowing authority. (POLITICO, May 10 and May 11)


Nonetheless, the White House highlighted the need for permitting reform in its energy infrastructure priorities announced yesterday. (Roll Call, May 10)


The White House's priorities also include the accelerated deployment of upgraded transmission lines needed to deliver renewably sourced energy over long distances and bring it to the nation's urban and suburban population centers—a policy supported by The Real Estate Roundtable. (White House fact sheet, May 10)


White House Senior Advisor John Podesta, above, unveiled the administration's policy priorities yesterday, citing the ongoing progress of clean energy incentives enacted as part of the Bipartisan Infrastructure Law, the CHIPS and Science Act, and the Inflation Reduction Act (IRA).


Podesta said, "And thanks to all three bills working together … we've sent a powerful signal to the private sector. They've already responded with over $220 billion in new clean energy announcements since President Biden took office." ( Podesta remarks, May 10)


See The Roundtable's resources on the IRA:

Related Energy News
The Roundtable will focus on the impact of the debit ceiling and federal energy policy priorities during its all-member Annual Meeting on June 13-14 in Washington.
# # #