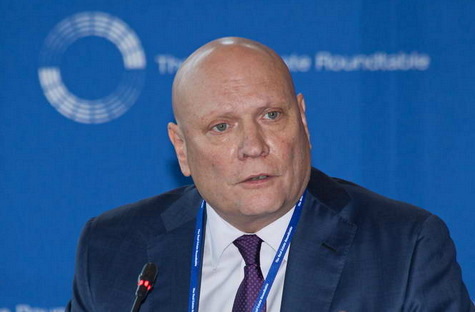 Commercial real estate executives remain optimistic about overall Q2 market conditions despite growing economic headwinds and geopolitical uncertainty, according to The Real Estate Roundtable's Q2 2022 Economic Sentiment Index released on May 13, 2022.

Roundtable President and CEO Jeffrey DeBoer, above, said, "The decline in this quarter's Real Estate Roundtable Sentiment Index reflects concerns regarding inflationary pressures, interest rate increases, labor shortages and supply chain disruptions. Even so, the overall sentiment of commercial real estate industry senior executives remains positive. Businesses and individuals continue to rethink how real estate meets their evolving working, living, and traveling preferences. Building owners, managers and financiers across the nation are partnering with their business and residential tenants to respond, while also pressing forward in developing and redeveloping buildings to be greener, smarter, and more efficient."
He added, "Our Q2 Sentiment Index reveals especially bright spots for lease demand in a wide swath of the economy, particularly regarding life sciences, industrial, multifamily, and data center assets. At the same time however, high inflation, rising interest rates, labor and supply chain shortages are increasing costs associated with all real estate development and operations. The impact of ongoing war in eastern Europe is another cloud tempering optimism. We urge national policymakers to focus on creating jobs and supporting strong real estate asset values. Both actions would buttress the overall economy and help local community budgets provide needed safety, education and transportation services."
The Roundtable's Overall Sentiment Index—a measure of senior executives' confidence and expectations about the commercial real estate market environments—is scored on a scale of 1 to 100 by averaging the scores of Current and Future Economic Sentiment Indices. Any score over 50 is viewed as positive. ­­­­

Topline findings include: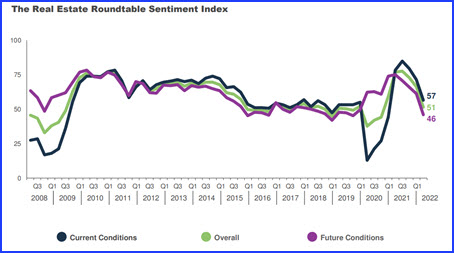 The Roundtable's Q2 2022 Economic Sentiment Index registered an overall score of 51, a decrease of 15 points from the previous quarter's overall score and 26 points lower than a year earlier. Survey respondents remain optimistic but have tempered their expectations due to geopolitical and economic uncertainties, which include rising interest rates, increased inflation, and labor and supply chain shortfalls.

Perceptions vary by property type and geography, with industrial, multifamily, life sciences, and data centers continuing to be most favored. As employers continue to roll out return-to-office policies, the demand for office space remains uncertain.

Asset values have trended upward across asset classes compared to last year, while forward-looking expectations are starting to taper off.

Participants cited a continued availability of debt and equity capital despite heightened concerns over rising interest rates, geopolitical concerns, and inflationary risk.

Data for the Q2 survey was gathered in April by Chicago-based Ferguson Partners on The Roundtable's behalf. See the full Q2 report.

# # #