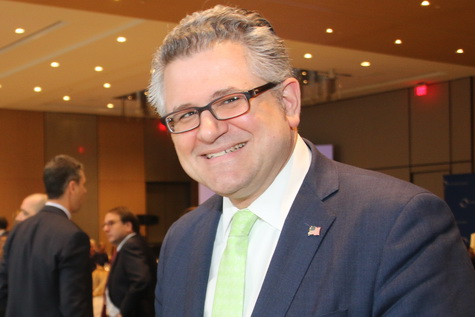 The federal regulator of Fannie Mae and Freddie Mac – the Government Sponsored Enterprises (GSEs) who own or guarantee $5.6 trillion in single and multifamily mortgages – will propose new affordable housing requirements and duty-to-serve plans this year.
Federal Housing Finance Agency Director Mark Calabria, above, told Politico this week that the regulator's Division of Research and Statistics will first study how effective the current rules have been, which expire at the end of 2020. "I don't know whether they've (the requirements) made a difference in getting anybody into a home who wouldn't have been otherwise; I mean unless you have a strong evaluative function, how do you know whether what you're doing makes a difference?" Calabria said. (PoliticoPro, Feb. 10)


Calabria also discussed the timeline for when Fannie and Freddie will stop acquiring adjustable rate mortgages tied to the London Interbank Offered Rate (LIBOR) as loans will begin to be tied to the Secured Overnight Financing Rate (SOFR) as the global benchmark for interest rates. FHFA's steps away from LIBOR will include:
* New language will be required for single-family Uniform Adjustable Rate Mortgage (ARM) instruments closed on or after June 1, 2020;
* All LIBOR-based single-family and multifamily ARMs must have loan application dates on or before September 30, 2020 to be eligible for acquisition; and,
* Acquisitions of single-family and multifamily LIBOR ARMs will cease on or before December 31, 2020.
"These steps represent important milestones in the Enterprises' transition away from LIBOR to a more robust reference rate. We will continue to monitor exposure to LIBOR and ensure the Enterprises manage the risks associated with the transition in a safe and sound manner," said Calabria. (FHFA news release, Feb. 5)


FHFA also continues to take steps toward recapitalizing Fannie and Freddie before returning the GSEs to private ownership after their $190 billion government bailout in 2008. Calabria announced on Feb. 3 that FHFA has selected Houlihan Lokey Capital, Inc. as a financial advisor to assist in the development and implementation of a roadmap to responsibly end the GSEs conservatorships.


Houlihan Lokey will consider business and capital structures, market impacts and timing, and available capital raising alternatives, among other items as outlined in a previously published Statement of Work.


"Hiring a financial advisor is a significant milestone toward ending the conservatorships of the Enterprises," Calabria said. "The next major milestone for FHFA is the re-proposal of the capital rule, which will happen in the near future." (FHFA news release, Feb. 3)


Director Calabria spoke during The Real Estate Roundtable's Jan. 28, 2020 State of the Industry Meeting in Washington. He addressed his agency's need to responsibly privatize Fannie and Freddie while ensuring sufficient private capital is in place to protect taxpayers, along with access to affordable rental housing.
The Roundtable wrote to the leadership of the Senate Committee on Banking, Housing and Urban Affairs in September 2019 regarding reform of the nation's house finance system. The letter notes the Treasury Department's constructive proposal for both legislative and administrative reforms to the government-sponsored enterprises (GSEs), Fannie Mae and Freddie Mac, and urges both Treasury and the FHFA to work with Congress to end conservatorship through comprehensive, bipartisan, legislative reforms. (Roundtable GSEs comment letter, Sept. 9, 2019)
# # #