Commercial real estate activity in the Fed's 12 regional districts show mostly positive results, yet concerns about trade tariffs are widespread, according to the Federal Reserve's latest "Beige Book" report about economic conditions. (The Fed, April 18)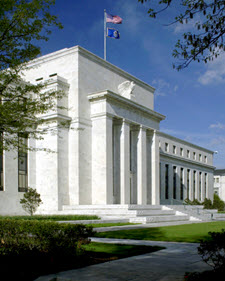 Commercial real estate activity in the Fed's 12 regional districts show mostly positive results, yet concerns about trade tariffs are widespread, according to the Federal Reserve's latest "Beige Book" report about economic conditions. (The Fed, April 18)
A new focus on the threat of a trade war appears in the report, with the word "tariff" used 36 times, compared with zero references in the prior survey. The second line in the report states, "Outlooks remained positive, but contacts in various sectors including manufacturing, agriculture, and transportation expressed concern about the newly imposed and/or proposed tariffs." (Reuters, April 18)
The report summary also notes that steel and aluminum prices rose, "sometimes dramatically" due to the new duties imposed by the Trump Administration. (Roundtable Weekly, March 9) The Beige Book is one of the first official reports showing the economic impact of the new tariffs on domestic business. (Wall Street Journal, April 18)
Contacts in nine of the 12 districts commented directly on the impacts of tariffs, citing concerns related to rising prices, future uncertainty, investment decisions, and how to pass increased costs on to consumers.
A summary of each Fed district is included in the report, which shows economic expansion at a modest to moderate pace throughout March and early April, with the labor market described as "tight."
Although the Fed reports that commercial real estate activity and construction has improved since March, prices have increased for building materials, especially for lumber, drywall, and concrete. (GlobeSt, April 19)
The Fed will consider the Beige Book findings during its next meeting on May 1-2. On Monday, New York Fed President William Dudley said the Fed would likely rise interest rates three or four times in 2018. (Fed Calendar and CNBC, April 16)
Roundtable President and CEO Jeffrey DeBoer noted the commercial real estate industry's concerns earlier this month, stating, "Proposed tariffs, coupled with the earlier tariffs on steel and ongoing dispute with China could have unfortunate and unintended effects on the U.S. economy by raising construction costs, and reducing jobs in real estate development. China has continually taken advantage of trade practice laws, particularly intellectual property-vital for the U.S. to continue developing new technology, whether it be machinery, software, or energy efficient building solutions and should be held accountable but in a measured way." (Roundtable Weekly, April 6)
The economy and CRE will be a focus at The Roundtable's Spring Meeting next week in Washington, which will include Senate Majority Leader Mitch McConnell (R-KY) as a featured guest.