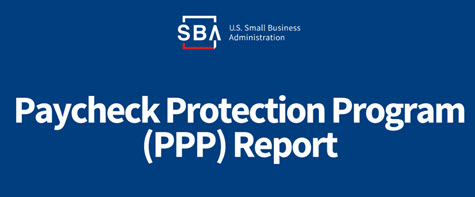 The Small Business Administration (SBA) yesterday announced that the Covid-19 Paycheck Protection Program (PPP) hit its $349 billion limit after successfully processing more than 1.6 million loans since the program launch on April 3. The PPP – funded by the Coronavirus Aid, Relief, and Economic Security (CARES) Act for small businesses struggling with the economic shocks of the pandemic – was quickly depleted as Congress continued negotiations over how to replenish funding. (Wall Street Journal, April 16)
"The SBA has processed more than 14 years' worth of loans in less than 14 days. By law, the SBA will not be able to issue new loan approvals once the programs experience a lapse in appropriations," according to a joint statement by the Treasury and SBA."


The urgent need for Congress to move quickly to authorize additional funding for the PPP is detailed in an April 15 letter to policymakers from more than 250 industry and business groups, including The Real Estate Roundtable.


The SBA this week also released its first report on loan approval details since launching the program. Through April 13, the SBA report shows 49,000 real estate businesses and 115,000 construction businesses were approved for PPP loans. (SBA PPP Report) See The Wall Street Journal, April 15, "Where the Stimulus Loans for Small Businesses Are Going")


The Roundtable on April 8 also submitted an 8-Point Plan to clarify and improve the Payroll Protection Program (PPP) to policymakers. A coalition letter from national real estate organizations also seeks clarifications and confirmation on real estate businesses' eligibility for the PPP. See April 16 letter to the Treasury and SBA.


Updates to the PPP rules and guidance are available via the Treasury Department's website (April 15 FAQ update here) and the Small Business Administration's Covid-19 resource webpage.


Congressional Republicans this week have emphasized that additional PPP funding should be limited to $250 billion solely for small businesses – while Democrats want to add an additional $100 billion for hospitals, $150 billion for state and local governments and more food assistance funds. (The Hill, April 16)


Due to coronavirus health concerns the House and Senate are currently scheduled to return to Washington on May 4. Until then, both chambers need unanimous support to pass an additional funding package.
Re-Opening the U.S. Economy
President Trump yesterday announced "Guidelines to Open Up America Again" that delegates final decisions for states to lift stay at home orders or business restrictions to governors once certain criteria are met. States would first need to demonstrate their COVID-19 cases are on downward trajectory over a 14-day period, while also establishing a system for testing health care workers before they can proceed to a phased opening. (Guidelines document and Wall Street Journal, April 16)
President Trump on April 14 also announced the formation of various "Great American Economic Revival Groups" to gain insight on combating the economic impact of the coronavirus from leading business executives representing various economic sectors. Among the 200 leaders from industry sector groups are 10 members of The Real Estate Roundtable. (Full list, White House news release and Bisnow, April 15)
# # #