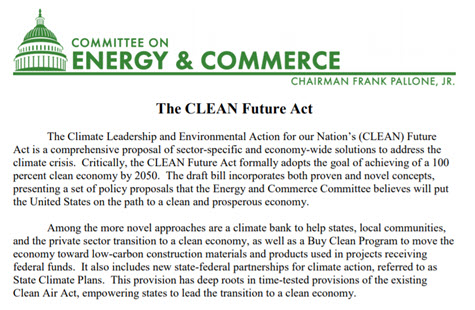 House Democrats on Jan. 8 released a legislative framework on climate policy that addresses buildings and energy efficiency among its sector-specific proposals. The goal for the House Energy and Commerce Committee's Climate Leadership and Environmental Action for Our Nation's (CLEAN) Future Act is to achieve overall net-zero greenhouse gas emissions (GHG) for the United States by 2050.
The legislative text of the draft CLEAN Future Act will be released by the end of this month while hearings and stakeholder meetings continue throughout the year. (Committee news release, Jan. 8).


The proposal addresses the efficiency of new and existing buildings, as well as the equipment and appliances that operate within them. The bill proposes national energy savings targets from continued stringency of model building energy codes (frequently adopted into law at the state and local level), with a requirement of "zero-energy-ready buildings" by 2030.


The legislative framework also proposes requirements on utilities and other retail electricity suppliers to de-carbonize the U.S. electric grid. Under the proposal, they must provide an increasing supply of clean electricity to consumers starting in 2022, rising to 100 percent clean energy by 2050.


The legislative framework will also direct the Federal Energy Regulatory Commission (FERC) to facilitate the integration of localized distributed energy, energy storage, and renewable energy resources into the electric grid.


While the CLEAN Future Act proposal is not expected to garner support from Republicans, measures that would "clean" the electric grid and direct FERC to modernize energy markets could theoretically impact emerging obligations on building owners to comply with certain local-level carbon reduction mandates (such as New York City's Local Law 97.) (See Roundtable Weekly, April 19, 2019)


Meanwhile, the House Select Committee on the Climate Crisis is expected to issue legislative policy recommendations by March 31, 2020. (See Roundtable Weekly, October 25, 2019)


The Real Estate Roundtable submitted detailed energy and climate policy recommendations to the House Select Committee on November 21, 2019. The comments offer a suite of priorities developed by The Roundtable's Sustainability Policy Advisory Committee (SPAC), including:

* Improve the model building energy codes process by enacting the Portman-Shaheen Energy Savings and Industrial Competitiveness (ESIC) Act. (Roundtable Weekly, September 27, 2019)

* Enhance EPA's voluntary ENERGY STAR incentive programs for both commercial buildings and tenants.


* Create meaningful accelerated depreciation periods to encourage investments in high performance equipment to retrofit existing commercial and multifamily buildings. (Roundtable Weekly, May 10, 2019)
House Speaker Nancy Pelosi (D-CA) has stated the House will act on a climate bill in 2020 (Bloomberg Environment, Dec. 6, 2019). Majority Leader Steny Hoyer (D-MD) also told reporters this week that climate policy would be a "huge issue" this year. (E&E News, Jan. 9)


In the Senate, a different approach to energy policy has evolved over the past year. The Senate Energy and Natural Resources (ENR) Committee passed 52 bills in 2019 on a largely bipartisan basis. Several of these bills address commercial and residential real estate, including the Energy Savings and Industrial Competitiveness Act (ESIC) Act (Portman-Shaheen), long-supported by The Real Estate Roundtable.


The ESIC Act "is exactly the kind of smart, forward-looking policy that will help building owners respond to our modern, evolving economy" Roundtable President and CEO Jeffrey DeBoer stated in a Senate news release upon the bill's introduction this past summer. (Roundtable Weekly, July 19) (Video of DeBoer's statement)
Energy and climate legislation will be a focus of discussion during The Roundtable's upcoming January 28 State of the Industry Meeting in Washington. The Roundtable's Sustainability Policy Advisory Committee (SPAC) will also meet on January 29.
# # #