Legislation aimed at lessening the harsh impact of an antiquated 133 year-old labor "Scaffold Law" – an economic burden on infrastructure projects crossing state lines – passed the House Judiciary Committee on Tuesday. (Committee Mark-up Video, Jan. 30)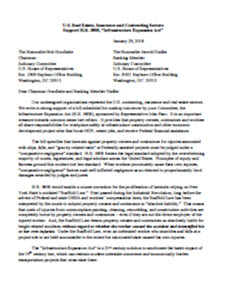 The Jan. 29, 2018 industry coalition letter in support of the Infrastructure Expansion Act (H.R. 3808).
The Infrastructure Expansion Act of 2017 (H.R. 3808), sponsored by Rep. John Faso (R-NY), passed along party lines by a 16-14 vote. The Real Estate Roundtable, Associated General Contractors, and 17 U.S. organizations representing the contracting, insurance and real estate sectors urged the committee to pass the bill. (Coalition Letter, Jan. 29)
The coalition letter provides several examples of transportation projects (such as the Northeast Corridor Gateway Program) that would benefit multiple states and the national economy, yet are hindered by application of the Scaffold Law.
Courts have interpreted the New York law to subject property owners and contractors to "absolute liability" for slips, falls, and height-related accidents that occur during commonplace painting, cleaning, remodeling, and construction activities.
Under this standard, any negligence by a worker that may cause an accident or intensify his own injuries is disregarded. As an example, an inebriated worker who stumbles and falls at a project site would not be held accountable to the extent his intoxicated state caused his own injuries. (Roundtable Weekly, Jan. 19). As a result, absolute liability under the Scaffold Law has caused premiums for general liability insurance at New York development sites to skyrocket.
H.R. 3808 would deny federal funding to construction projects that use New York's "absolute liability" standard for workplace injuries caused by falls. The bill does not diminish or alter Federal or state OSHA obligations, nor does it foreclose "no-fault" workers' compensation.
Committee Chairman Goodlatte (R-VA) broadened the bill's scope to require states use either a "comparative negligence" or "contributory negligence" standard for falls on federally subsidized projects. In a statement, Goodlatte also offered detailed reasons explaining why the legislation should be enacted.
Although the Infrastructure Expansion Act may continue to gain predominantly GOP support in the House, its prospects in the Senate are far more challenging.