A Roundtable-supported bill that would allow federally regulated banks to provide mortgage and financial services to state-licensed, cannabis-related businesses ("CRBs") – without the threat of penalties under federal law – passed the House on Feb. 4.
A SAFE Harbor
The Secure and Fair Enforcement (SAFE) Banking Act (H.R. 1996) would provide commercial property owners a safe harbor if they lease space to a state-approved CRB, whose mortgages would not be subjected to corrective action by a bank under federal law.


The SAFE Banking Act was approved by the House last week after it was added as an amendment to the America COMPETES Act, a bill that aims to make the U.S. more competitive with China. (The Hill, Feb. 4)


The cannabis reform bill has been introduced in every Congress since 2013 by Rep. Ed Perlmutter (D-CO) – and has now passed the House six times as a standalone bill or an amendment to a larger legislative package.


Perlmutter, who plans to retire from the House at the end of this year, said, "Cannabis-related businesses — big and small — and their employees are in desperate need of access to the banking system and access to capital in order to operate in an efficient, safe manner and compete in the growing global cannabis marketplace." (NJ.com, Feb. 7)


The Real Estate Roundtable is a long-standing supporter of the SAFE Banking Act. Roundtable President and CEO Jeffrey DeBoer noted in a March 2019 letter to policymakers that the bill "… clarifies that banks could not take adverse action on a loan to a real estate owner solely because that owner leases property to a legitimate CRB. The measure also protects sellers and lessors of real estate and other CRB 'service providers' by clarifying that proceeds from legitimate marijuana-related transactions do not derive from unlawful activity, and thus do not provide a predicate for federal criminal money laundering." (Roundtable letter, March 25, 2019)


Cannabis has been legalized in 18 states since 2010, and 37 have legalized marijuana for medical purposes. (HuffPost, Feb. 10)


The estimated value of the U.S. cannabis industry is $17.7 billion, a substantial amount of which remains unbanked. As of January 2021, the legal cannabis industry supports 321,000 jobs across the country. (Perlmutter news release, April 19, 2021)
Senate Consideration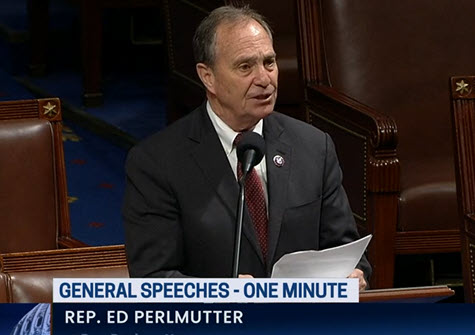 The America COMPETES Act now heads to the Senate for consideration and a likely legislative conference with House policymakers. Perlmutter, above, commented that if the SAFE Banking Act is rejected once again by the Senate, he would attach the cannabis reform measure to "some other bills coming up over the course of the next month or two."


House Speaker Nancy Pelosi (D-CA) assured Rep. Perlmutter that she will push for passage of the SAFE Banking Act bill. Perlmutter said, "[Pelosi] understands, too, that I'm committed to put this on anything that I can. She sees it – and I hope the Senate ultimately sees it – as inevitable." (PoliticoPro, Feb. 4)


Senate Minority Leader Mitch McConnell (R-KT) on Feb. 8 described the SAFE Banking measure as a "poison pill" amendment. "China has been steadily building up its military and economic might, and the Democrats' answer is to help Americans get high?" McConnell said. (MarketWatch, Feb. 8)

In a separate cannabis reform effort, Senate Majority Leader Chuck Schumer (D-NY), along with Sens. Cory Booker (D-NJ) and Ron Wyden (D-OR), yesterday sent a "dear colleague" letter to solicit input about a Senate bill seeking to legalize marijuana at the federal level with the addition of social justice measures.
Schumer's bill is likely to attract more Republican opposition than the SAFE Banking Act.
# # #