Republican members of the House Ways and Means Committee approved their proposed tax legislative package along party lines this week, including measures on business interest deductibility, bonus depreciation, and opportunity zones. (
Tax Notes
, June 14 |
Ways and Means Committee
, June 13 and
Roundtable Weekly
, June 9)
Tax Measures and CRE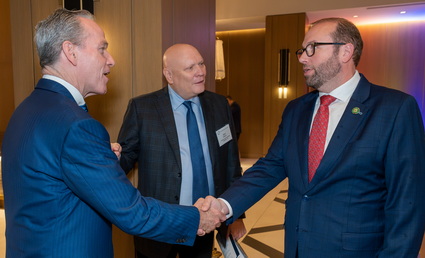 On Wednesday, Ways and Means Committee Chairman Jason Smith (R-MO), Committee Member Brad Schneider (D-IL), and Ways and Means staff spoke with Roundtable Members about the tax measures and other issues at The Roundtable's all-member Annual Meeting in Washington, DC during the Tax Policy Advisory Committee (TPAC) session. [Photo left to right: Roundtable Chair John Fish (Chairman and CEO, SUFFOLK), Roundtable President and CEO Jeffrey DeBoer, and Committee Chairman Jason Smith]
The three tax bills sent to the House floor for a potential vote next week contain $237 billion in business and individual tax cuts, financed by the repeal or modification of several energy tax incentives enacted in last year's Inflation Reduction Act (IRA). However, differences in the GOP caucus and requests from some Republicans to include a boost in the $10,000 deduction cap on state and local taxes (SALT) could push a vote until after the congressional July 4 recess. Any Republican tax package passing the House would face significant opposition in the Democrat-controlled Senate and the White House. (Tax Notes, June 16)
The committee's proposals relevant to real estate include: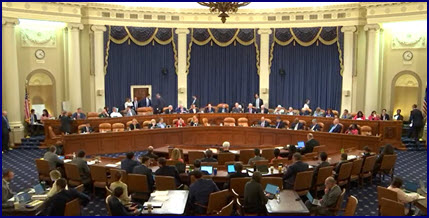 Business interest deduction. The Build It in America Act would provide a 4-year extension (through 2025) of certain, taxpayer-favorable business interest deductibility rules that applied from 2018-2021. The proposal would allow more real estate businesses to operate under the general rules of section 163(j) and its preferable cost recovery schedules. (H.R. 3938 and summary)
Bonus depreciation. H.R. 3938 also includes a 3-year extension (through 2025) of 100% bonus depreciation for qualifying capital investments, including equipment, machinery, and interior improvements to nonresidential property ("qualified improvement property"). Bonus depreciation is 80% in 2023 and gradually phasing down.
Energy Tax Credits Transferability
The Biden administration this week proposed rules on transferring clean-energy tax credits under the IRA. Treasury's proposed guidance released on June 14 seeks to clarify numerous issues, including which entities would be eligible for each credit monetization mechanism, laying out the process and timeline to claim and receive an elective payment, and transferring a credit. (Tax Notes, June 15 |The Wall Street Journal, June 14 | IRS news release)
Secretary of the Treasury Janet Yellen stated, "The Inflation Reduction Act's new tools to access clean energy tax credits are a catalyst for meeting President Biden's historic economic and climate goals. They will act as a force multiplier, bringing governments and nonprofits to the table." (CNBC and Treasury news release, June 14)
The Roundtable's Tax Policy Advisory Committee (TPAC) and Sustainability Tax Policy Committee (SPAC) will analyze the impact of the transferability rules on commercial real estate for potential comments on the proposed rulemaking. SPAC's meeting on Wednesday during The Roundtable's Annual Meeting included a presentation about an online marketplace for exchanging such tax credits.
Climate Disclosure Regs
Separately, the Securities and Exchange Commission (SEC) expects to issue new climate disclosure rules by October, a year later than the original target date. The new date was included in a SEC rule-making agenda and schedule released on Tuesday.
Legislation to constrain future SEC disclosure requirements was reintroduced this week by Sen. Mike Rounds (R-SD) and nine of his Senate colleagues. The bill includes language stating that an "issuer is only required to disclose information in response to disclosure obligation adopted by the Commission to the extent the issuer has determined that such information is important with respect to a voting or investment decision regarding such issuer." Rep. Bill Huizenga (R-MI) is sponsoring a version of the bill in the House. (Sen. Rounds news release and Politico Pro, June 15)
The Roundtable's SPAC will continue to track any developments related to the SEC's forthcoming rule on climate reporting, including its proposal for sweeping disclosures on Scope 3 GHG emissions affecting CRE. (
Roundtable Weekly
, March 10) # # #