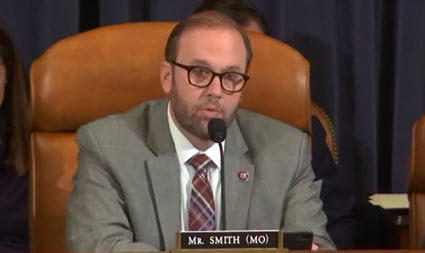 The House Ways and Means Committee unveiled a tax package today that includes measures impacting commercial real estate, and announced a legislative mark-up on June 13. (Politico and Tax Notes, June 9)
Committee Chairman Jason Smith (R-MO), above, Ways and Means Member Brad Schneider (D-IL), and committee staff will speak on June 14 during The Roundtable's all-member Annual Meeting in Washington, DC at the Tax Policy Advisory Committee (TPAC) meeting.
GOP Proposal & CRE
Chairman Smith released a statement today about the package, which includes the following bills scheduled for markup next week:


The proposals relevant to real estate include:



Business interest deduction. The Build It in America Act (H.R. 3938) would provide a 4-year extension (through 2025) of certain, taxpayer-favorable business interest deductibility rules that applied from 2018-2021. The proposal would allow more real estate businesses to operate under the general rules of section 163(j) and its preferable cost recovery schedules.


Bonus depreciation. H.R. 3938 also includes a 3-year extension (through 2025) of 100% bonus depreciation for qualifying capital investments, including equipment, machinery, and interior improvements to nonresidential property ("qualified improvement property"). Bonus depreciation is 80% in 2023 and gradually phasing down.


Opportunity Zones. The Small Business Jobs Act (H.R. 3937) would establish special, favorable rules for investments in rural opportunity zones. It would also create a new and detailed information-reporting regime for all opportunity funds.
The GOP package (H.R. 3938) also contains proposals that would repeal some clean energy provisions from the Inflation Reduction Act (H.R. 5376), including electric vehicle tax credits, clean energy production, and investment tax credits.
Prospects for Passage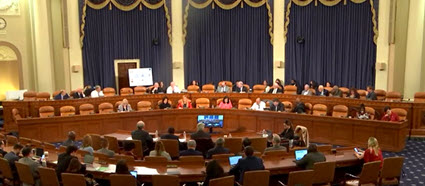 The Ways and Means proposal may pass through committee—and possibly pass the Republican-majority House—but such a package faces steep obstacles in the Democrat-controlled Senate and with the White House.
The proposals are a good indication of the priorities that House Republicans will bring to any bipartisan economic policy negotiations as the year unfolds.
# # #