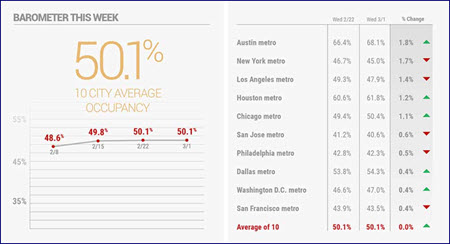 The number of office assets facing loan defaults or entering special servicing is growing in major markets as remote work and rising interest rates continue to exert pressures on metropolitan areas and city budgets, according to reports this week in Commercial Observer and Bloomberg.
Workplace Occupancy
Workplace occupancy rates are measured in a weekly "Back to Work Barometer" series, above, by building security provider Kastle Systems, whose March 6 report showed a 10-city average occupancy rate of 50.1%. (Bloomberg, March 9)


Kastle also reported that the Washington, DC metro area's workplace occupancy rate registered 46.6%. Remote work's influence on the DC tax base, reduced office transactions, and dropping asset values are projected to decrease the city's tax revenue by nearly a half-billion dollars from 2024-2026. (Roundtable Weekly, March 4)
Congressional Hearings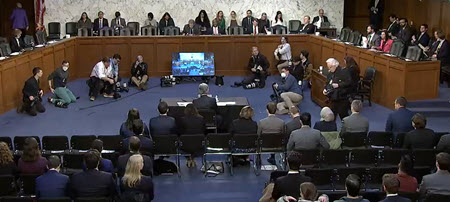 During a March 7 Senate Banking Committee hearing, Fed Chairman Jay Powell addressed a question from Sen. Mark Warner (D-VA) about low office occupancy rates in many major cities. Powell said the issue is "an area that requires a lot of monitoring," noting that some smaller banks may have more significant exposure to CRE than large banks. "I'd say we're on the case," he added. (CQ News, March 7 and CQ hearing transcript)
The issue of converting commercial buildings into affordable housing and mixed-use properties was also addressed during a Senate Finance Committee hearing this week by Sen. Debbie Stabenow (D-MI), who co-sponsored the Revitalizing Downtowns Act to encourage conversions. Hearing witness Sharon Wilson Géno—president of the National Multifamily Housing Council (NMHC)—noted a recent joint NMHC and Urban Land Institute study on adapting CRE to residential use.
The Real Estate Roundtable wrote to President Joe Biden last December about the need for federal employees to return to their workplaces—and encouraged the administration to support legislation that could incentivize conversion of underutilized buildings to more productive use such as housing. These two requests are included in the House-approved Stopping Home Office Work's Unproductive Problems (SHOW UP) Act (H.R. 139). (Roundtable Weekly, Feb. 3 | GlobeSt and CoStar, Dec. 15, 2022)
# # #