Janet Yellen concluded her final meeting as chair of the Federal Reserve on Wednesday after four-years of overseeing a cautious approach to monetary policy at the central bank. The Fed released a statement the same day about positive trends in the national economy, citing information "that the labor market has continued to strengthen and that economic activity has been rising at a solid rate." (Federal Reserve Statement, Jan 31)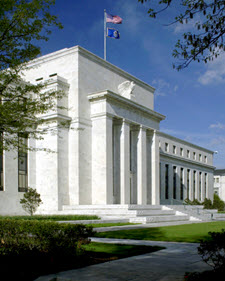 The Federal Reserve in Washington, DC
The Senate on Jan. 23 voted 84-13 to confirm Fed Governor Jerome "Jay" Powell as the next Fed chairman. After the Fed's Federal Open Market Committee (FOMC) this week unanimously affirmed Powell as its chair, he will be sworn into office for a four-year term on Feb. 5.
President Trump now has the opportunity to fill four of seven seats empty on the Fed's board.
Powell is expected to continue monetary policies pursued in the Yellen-era. In December, Ms. Yellen said, "There is strong consensus in the committee for the gradual approach that we've been pursuing, and governor Powell has been part of that consensus." (Wall Street Journal, Jan. 31)
During her tenure, Yellen raised borrowing costs five times since late 2015 and recently initiated a reduction process in the central bank's 4.5 trillion dollar balance sheet. Most economists foresee another interest rate increase when the Fed meets for its next scheduled policy meeting in March under Chairman Powell. (Los Angeles Times, Jan. 31)
Before President Barack Obama appointed him to serve as Fed Governor in 2012, Powell served at the Treasury Department under President George H.W. Bush and served as a managing director at Carlyle Group.