The federal government this week resumed full-time operations after a 35-day partial shutdown. A three-week bill signed by President Trump last Saturday now funds approximately 25% of the government – including the Department of Homeland Security (DHS), Treasury and the Internal Revenue Service (IRS) – until Feb. 15. If a new funding measure is not passed, the government will face another partial shutdown.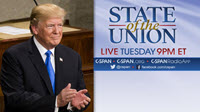 President Trump is scheduled to deliver the State of the Union to Congress on Tuesday, Feb. 5.
(C-Span)
The nonpartisan Congressional Budget Office released a report on Monday showing the partial shutdown reduced gross domestic product by $3 billion. (Wall Street Journal, Jan. 28)
A House-Senate conference committee began negotiations Wednesday on a border security funding measure to resolve the same issue that caused the shutdown in December – a wall on the Mexican border.
President Trump yesterday said, "On Feb. 15th, the committee will come back and if they don't have a wall, I don't even want to waste my time reading what they have because it's a waste of time." (Bloomberg, Jan. 31)
House Speaker Nancy Pelosi (D-CA) yesterday stated, "There's not going to be any wall money in the legislation. However, if they have some suggestions about certain localities where technology, some infrastructure [is appropriate] ... that's part of the negotiation."
If a new funding measure is not passed by Feb. 15, the government will face another partial shutdown.

The House Speaker added that House rules require the congressional conference committee to complete an agreement by Feb. 8 to pass it by Feb. 15. "In order to have a bill signed by the president, we have to have a signed conference report by next Friday. So we only have this week plus one day, with the State of the Union in between, to get this done," Pelosi said. (The Hill, Jan. 31)
President Trump is scheduled to deliver the State of the Union to Congress on Tuesday, Feb. 5, when he is expected to address his proposed increase in border security funding, including $5.7 billion for wall construction. (Daily Caller, Jan. 30)
House Committee Hearings on Tax, Infrastructure
House and Senate tax-writing committees are preparing for action on their policy agendas in the 116th Congress.
House Ways and Means Committee Chairman Richard Neal (D-MA) addressed his priorities during a Jan. 24 organizational meeting. Neal stated that in addition to retirement security and health care costs, "Another issue requiring our attention is America's infrastructure. We must ensure our infrastructure systems are both safe and efficient it's essential for our global competitiveness. We'll also closely examine the Republicans' tax law and its various problems. So we'll be conducting thorough oversight of this law – oversight that frankly is well overdue. (Ways and Means, Neal Statement, Jan. 24.)
Rep. Mike Thompson (D-CA), chairman of the Ways and Means' Subcommittee on Select Revenue Measures (formerly the tax policy subcommittee), said his panel's first hearing will focus on infrastructure, although he has not set a date for the hearing. Thompson added that the subcommittee will also review the 2017 tax code overhaul and how tax policies, such as a carbon tax or renewable energy tax breaks, impact climate change. (CQ, Jan. 31)
Senate Finance Committee Chairman Charles Grassley this week said that retroactive renewal of more than 20 tax deductions that expired at the end of 2017 should be tied to a spending measure to keep the government fully funded beyond Feb. 15. "The only vehicle that I see in the next few weeks is what comes out of this closing-down conference," Grassley said,. "And if we don't have something ready to go when that's done, have a compromise on extenders ... then it's going to be a long time before we get another opportunity." (CQ, Jan. 31)