Roundtable Weekly
Minneapolis Fed President Neel Kashkari Endorses More Private Sector Development to Counter Affordable Housing Crisis, Echoing Roundtable's Policy Agenda
February 8, 2020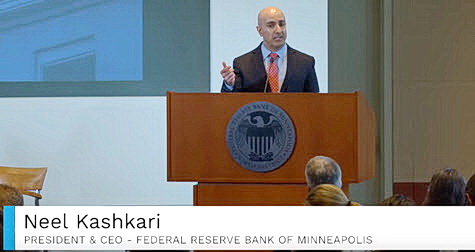 The increasing cost burden of rental housing is now reaching middle-income Americans, according to a Harvard University Joint Center for Housing Studies (JCHS) report, America's Rental Housing 2020. Federal Reserve Bank of Minneapolis President and CEO Neel Kashkari introduced the report at a Jan. 31 event. "We need a lot more private sector development to come in, build many, many more units across the spectrum, create more supply, that'll make things more affordable for everyone. Unless we unlock the private sector, we're never going to help the vast majority of people who are struggling with affordability today," Kashkari said. (KSTP video, Jan. 31)
Kashari noted the challenge is how to encourage the private sector to create and preserve affordable housing alternatives at scale so that other targeted government programs can also do their part. "Our research has shown, as many others have shown, that if the private sector builds more units, even market-rate units, it adds supply to a city or region that ends up creating space for everybody, Kashkari said. (YouTube video of JCHS event and ULI's Urban Land Magazine, Feb. 5)

The latest research from Harvard shows rising rental demand and constricted supply have reduced the stock of low- and moderate-cost units. This shift has significantly altered the profile of the typical renter household, resulting in a growing number of renters with incomes between $30,000 and $75,000 paying more than 30 percent of their income for housing – meeting the definition of "cost-burdened." (JCHS interactive map of the U.S.).

The report also notes that the rising cost of affordable rentals has resulted in a majority of lower-income renters spending more than half of their monthly income on housing – conditions that have led to increases in homelessness, particularly in high-cost states. (Bloomberg, Jan. 31 and JCHS chart)

According to the JCHS, climate change also poses a threat to the stability of American renter households. Between 2008 and 2018, 10.5 million of the country's 43.7 million renter households live in zip codes that incurred at least $1 million in home and business losses due to natural disasters. Additionally, 8.1 million renter households report that they do not have the financial resources to evacuate their homes if and when a disaster strikes.
During The Roundtable's State of the Industry meeting last week in Washington, DC, a discussion of housing availability and affordability featured Federal Housing Finance Agency Director Mark Calabria and Rep. Patrick McHenry (R-NC), Ranking Member of the House Financial Services Committee. (Roundtable Weekly, Jan. 31)
# # #