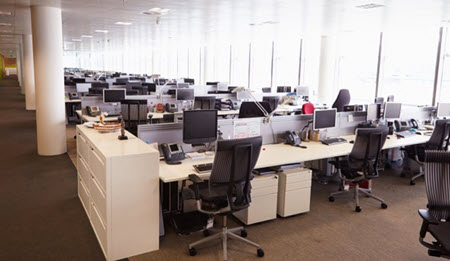 An updated study released this month by New York University and Columbia University researchers concludes "remote work is shaping up to massively disrupt the value of commercial office real estate in the short and medium term." (Work From Home and the Office Real Estate Apocalypse, May 15)
Municipal Finances and Financial Stability
The researchers—Arpit Gupta, Vrinda Mittal, and Stijn Van Nieuwerburgh—find a $506.3 billion value destruction for the U.S. office market between 2019 and 2022. Post-pandemic hybrid work arrangements have led to large drops in lease revenue, occupancy, lease renewal rates, and market rents in the commercial office sector, according to the updated research, affecting CRE cash flow at a time when the Federal Reserve has aggressively raised interest rates. (Fortune, May 25)


The report notes, "Higher quality buildings were buffered against these trends due to a flight to quality, while lower quality office is at risk of becoming a stranded asset. These valuation changes have repercussions for local public finances and financial stability."


The report also concludes that the fiscal hole left by declining office and retail property tax revenues may lead municipalities to increase taxes or cuts in spending—negatively affecting the attractiveness of cities as places to live and work, which may risk the activation of an "urban doom loop." The authors note, "Future research should explore these implications and study the role for local and federal policy."
Moody's Outlook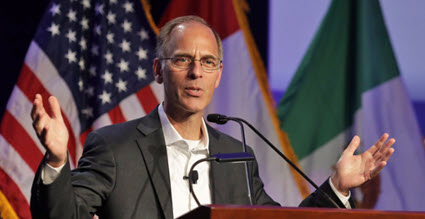 Moody's Analytics Chief Economist Mark Zandi, above, noted in a series of tweets this week that CRE prices fell in the first quarter of 2023 for the first time in more than a decade, led by drops in multifamily residences and office buildings, according to Moody's Repeat Sales Index. (Zandi will be a guest speaker at The Roundtable's all-member Annual Meeting on June 13 in Washington, DC.)


"Lots more price declines are coming with prices expected to be off 10% peak-to-trough by mid-decade. Demand for space is weak due to remote work and online retailing. Lots of multifamily units are being built. And credit to refinance and purchase properties is tough to get," Zandi tweeted.


Bloomberg reported on May 17 that Zandi noted if the US economy slips into a recession, the price declines could get worse. "We're on a razor's edge here," Zandi said.
Roundtable Request for Flexibility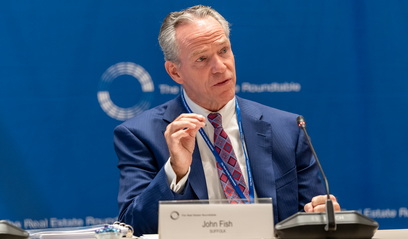 The Real Estate Roundtable continues to emphasize the need for federal regulators to allow more flexibility for lenders and borrowers to restructure commercial real estate loans facing potential default—as the Federal Reserve reported recently that CRE poses a potential risk to financial stability. (Fed's Financial Stability Report, May 2023)


Real Estate Roundtable Chair John Fish, above, (Chairman and CEO, SUFFOLK) summarized the industry's views in a May 9 MarketWatch article, noting that the Fed and regulatory agencies should grant more flexibility for borrowers, including corporate real estate developers, to restructure CRE loans.
In addition to Mark Zandi and House Ways and Means Committee Chairman Jason Smith (R-MO), The Roundtable's Annual Meeting next month will also include Sen. Kyrsten Sinema (I-AZ), Sen. Bill Hagerty (R-TN), and other policymakers.
# # #