A $333 billion spending package passed by Congress yesterday and signed by President Trump today funds the government through Sept. 30 (end of FY2019), avoiding a second government shutdown. (Senate Appropriations Committee summary, Feb. 15)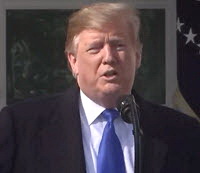 President Trump today declared a national emergency over illegal immigration at the border. White House officials said executive powers will be used to reprogram $6.6 billion in Pentagon and Treasury funds to build a border wall.
The legislative measure signed today includes funding for the Department of Homeland Security (DHS) and six other government agencies. The debate over DHS funding for a wall along the southwestern border with Mexico led to a five-week partial government shutdown. During the shutdown, the EB-5 Immigrant Investor Regional Center Program and federal cleanups at Superfund sites around the nation were suspended. With today's funding package, EB-5 has received another extension through Sept. 30. (Roundtable Weekly, Jan. 25).
Policymakers this week agreed to appropriate $1.38 billion for 55 new miles of barriers along the Mexican border. President Trump originally requested $5.7 billion to construct 234 miles of barriers. (Wall Street Journal, Feb. 15).
President Trump today also declared a national emergency over illegal immigration at the border. White House officials said executive powers will be used to reprogram $6.6 billion in Pentagon and Treasury funds to build a border wall. (The Hill, and New York Times, Feb. 15)
House Speaker Nancy Pelosi (D-CA) and Senate Minority Leader Charles Schumer (D-NY) responded they would use "every available remedy" to overturn the emergency declaration. (Pelosi-Schumer joint statement, Feb. 15)
President Trump said he expected a legal battle over the emergency proclamation. "I expect to be sued. I shouldn't be sued," he said today. "We will possibly get a bad ruling. And then we'll get another bad ruling. And then we'll end up in the Supreme Court, and hopefully we'll get a fair shake," he added. (Wall Street Journal, Feb. 15)