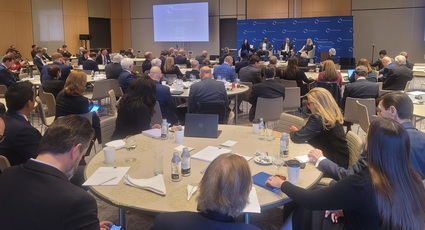 Real Estate Roundtable members will meet next week to discuss policy issues, market conditions, and the significant economic pressures facing the office sector. In an interview with CNBC's Squawk Box, Treasury Secretary Janet Yellen acknowledged the increasing stress on the office market this week, including the potential for further problems with banks with exposure to weakening CRE valuations.
Stress on Office Sector
On June 7, Treasury Secretary Yellen said, "Well, I do think that there will be issues with respect to commercial real estate. Certainly, the demand for office space since we've seen such a big change in attitudes and behavior toward remote work has changed and especially in an environment of higher interest rates." She added that banking supervisors continue to closely monitor "a range of banks to make sure that they are adequately prepared to deal with it." (CNBC's Squawk Box and MarketWatch, June 7)


Roundtable Member David O'Reilly (CEO, Howard Hughes Corporation) was interviewed by CNBC's Power Lunch on June 7 about the distress facing sectors of CRE, noting how capital markets are constraining borrowers from financing real estate projects.


The Roundtable continues to emphasize the need for federal regulators to allow more flexibility for lenders and borrowers to restructure a wave of $1.5 trillion in CRE loans maturing in the next three years. Real Estate Roundtable Chair John Fish (Chairman and CEO, SUFFOLK) summarized the industry's views in a May 9 MarketWatch article.
Policymakers at Next Week's Roundtable Meeting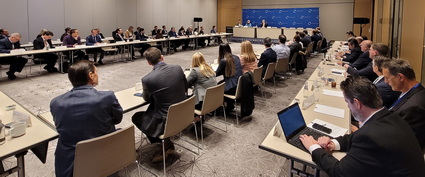 These compelling industry issues, among others, will be the focus of The Roundtable's Annual Meeting on June 13-14 in Washington, DC.
Roundtable members are encouraged to attend all sessions, which will feature policy discussions with:

Sen. Kryrsten Sineman (I-AZ)
Sen. Bill Hagerty (R-TN)
Thomas Barthold, Chief of Staff, Joint Committee on Tax
Mark Zandi, Chief Economist, Moody's Analytics



Sen. Hagerty is a featured guest at the June 13 joint Real Estate Capital Policy Advisory Committee (RECPAC) and Research Committee meeting, which will also include a real estate capital market panel with CRE leaders and a presentation by CBRE.


The June 14 TPAC meeting will feature key House tax policy leaders (see Tax story above), tax counsels from the House Ways and Means and Senate Finance Committees; and a panel on "Debt Workouts / Tax Incentives for Property Repurposing, Community Revitalization, and Housing."


The Sustainability Policy Advisory Committee (SPAC) on June 14 will include David Crane—confirmed by the Senate on June 7 as Under Secretary for Infrastructure at the U.S. Department of Energy—and Alejandra Nunez, Deputy Assistant Administrator, Office of Air and Radiation.


Also on June 14, a joint session of The Roundtable's Homeland Security Task Force and Risk Management Working Group will include a discussion with Rep. Andrew Garbarino (R-NY), chairman of the House Homeland Security Committee's Subcommittee on Cybersecurity and Infrastructure Protection. Additionally, officials from the Department of Homeland Security will speak on efforts to enhance information sharing with the CRE industry.
The Roundtable will conclude its 2023 fiscal year this month and will release its annual report to the membership in early July.
# # #