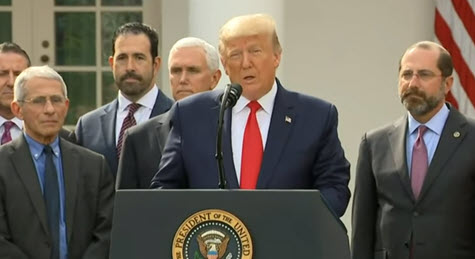 President Trump declared a national emergency this afternoon to unleash billions of disaster reserve funds to combat the coronavirus, as House Speaker Nancy Pelosi (D-CA) announced this evening that she "clinched a deal" with Treasury Secretary Steven Mnuchin on legislation to assist families and businesses immediately impacted by the pandemic. (POLITICO, March 13)
Emergency Declaration
"To unleash the full power of the federal government today I am declaring a national emergency," President Trump announced today in the Rose Garden. "Through shared sacrifice and national determination we will overcome the virus," he added. Stocks rallied throughout the day today and shot-up after the announcement, regaining some of this week's historic losses. (CNBC, March 13)


The declaration authorizes the Federal Emergency Management Agency (FEMA) to utilize over $42 billion available in the Disaster Relief Fund, to pump money into the economy for COVID-19 response. States and cities can use the funds for emergency protective measures such as widespread coronavirus testing, diagnosis, treatment and stabilization. The money can also be used to purchase durable medical equipment, set-up temporary treatment tents, deploy portable and mobile care facilities, store a 30-day supply or prescriptions for acute conditions, and disseminate public health information.


Senate Minority Leader Charles E. Schumer (D-NY) led other Senate Democrats in a March 11 letter urging President Trump invoke the Stafford Act to declare a national emergency.


Trump also announced a public-private partnership to mobilize COVID-19 testing. "We want to make sure that people who need a test can get one safely, quickly, and conveniently," he added. The aim of the effort is to supply up to 1.4 million tests next week and five million in a month, with drive-through tests available in critical locations.

Google will aim to build an online screening website for COVID-19 testing. Debbie Birx, the White House Coronavirus Response Coordinator, said during the news conference that website users will have to log in, fill out a screening and risk factor questionnaire, and then be directed to a "drive through" testing facility. The goal is to provide test results within 36 hours. (AP and Techcrunch, March 13)
This is a "pro-active, leaning-forward, aggressive" response to stay ahead of the pandemic, said Dr. Anthony Fauci, the top infectious disease expert at the National Institutes of Health, at the Rose Garden event. The emergency declaration removes constraints on government, public health experts, and medical professionals "to do everything they possibly can" to contain and mitigate the virus's spread.
Congressional Action
On Capitol Hill, the House of Representatives today is expected to pass the Families First Coronavirus Response Act (H.R. 6201), following reports of agreement reached by House Speaker Nancy Pelosi (D-CA) and Treasury Secretary Steven Mnuchin. (POLITICO, March 13)


The Senate cancelled its planned recess next week to consider a relief package. "I am glad talks are ongoing between the Administration and Speaker Pelosi," said Senate Majority Leader Mitch McConnell (R-KY). "I hope Congress can pass bipartisan legislation to continue combating the coronavirus and keep our economy strong." (Roll Call, March 12) As of this writing, Republicans are reportedly waiting for a "high sign" from President Trump for GOP support of the Families First Coronavirus Response Act. (POLITICO Playbook PM, March 13)


Pelosi remarked that H.R. 6201 is "focused directly on providing support for American families." She added, "the three most important parts of this bill are testing, testing, testing." Specifically, the Families First Coronavirus Response Act includes:



required medical insurance coverage for COVID-19 testing for all Americans;
extension of unemployment insurance benefits;
expansion of paid leave for full-time and hourly employees affected by the virus, including those staying home to care for family members;
shoring up SNAP and other programs that provide food security for school children, low-income families, and the elderly;
additional funds for Medicaid; and
a credit to reimburse companies for mandatory paid sick leave
Meanwhile, a framework suggested by Senate Democrats, and a plan of executive actions President Trump announced Wednesday in his oval office address, show that leadership of both parties want a quick economic response from Washington. (Brownstein Hyatt Farber Schreck, "Coronavirus Economic Update," March 13)
In the coming weeks, further policies from Congress and the Administration are expected to address longer-term stimulus of the U.S. economy through measures such as infrastructure investment, workforce development, increased lending for small businesses, and stabilizing the capital markets. The Roundtable will continue to work with our colleague partner associations to unify the real estate industry's message as policy makers develop and implement measures to mitigate the COVID-19 pandemic.
# # #