President Trump yesterday said he will sign a formal order next week imposing tariffs of 25 percent on imported steel and 10 percent on aluminum for "a long period of time" – an act that could raise domestic construction costs and create new challenges for real estate development and infrastructure projects. (White House Remarks, March 1)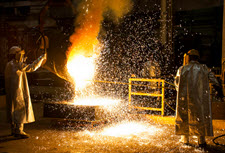 President Trump yesterday said he will sign a formal order next week imposing tariffs of 25 percent on imported steel and 10 percent on aluminum.
Roundtable President and CEO Jeffrey DeBoer voiced concern about how such a broad international penalty could rebound against the domestic commercial real estate industry. "In the United States, forty-two percent of steel is consumed by the construction industry, which employs millions of Americans directly and millions more indirectly," said DeBoer. "Aluminum is also a key material used in energy efficient building construction. The current healthy state of the U.S. commercial real estate industry could be hard hit with the unintended consequences from such broad penalties targeting metals essential to construction. Tariffs will lead to higher construction costs that make many new projects simply uneconomic and unviable — hurting investment and job creation," DeBoer noted.

Trump's announcement, made during a White House meeting with U.S. metals industry executives, sparked a bout of stock market volatility and immediate responses from Canada and the European Union promising "countermeasures" to "rebalance" international trade with the U.S.

Federal Reserve Chairman Jerome Powell, following testimony this week before the House and Senate, said, "The best approach is to deal directly with the people who are affected, rather than falling back on tariffs." (Wall Street Journal, March 1)

According to an analysis by the Cato Institute, more than 200 anti-dumping and countervailing duty orders aimed at preventing unfair competition currently constrain U.S. imports of steel and iron products from a long list of countries. The effect has been an increase in U.S. prices well above global levels to the detriment of the large manufacturing and construction sectors in America that use steel to make higher-value products. (CATO Institute, CNN Commentary, Aug. 2, 2017 and Engineering News-Record, Feb. 22, 2018)

The impact of tariff penalties on President Trump's recent infrastructure proposal are uncertain. Transportation Secretary Elaine Chao yesterday testified before a Senate committee about the Administration's infrastructure plan, which emphasizes policies to lower project costs and reduce project delays. Higher tariffs on steel – a material necessary to build and repair bridges, tunnels, pipelines, and rail lines – could further constrain the federal state, local and private funding sources touted by the Administration as necessary to finance U.S. infrastructure repair and modernization. (Bloomberg, March 1)

Infrastructure and national policies affecting economic growth will be discussed during The Roundtable's Spring Meeting on April 25 in Washington, DC.