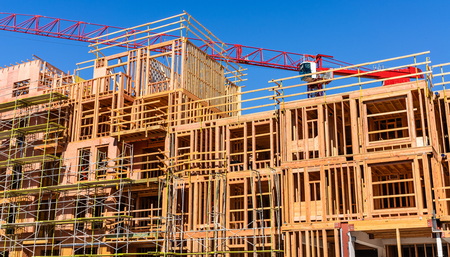 The Real Estate Roundtable and 11 other national industry organizations on May 2 expressed their support for legislation that would bolster the Federal Housing Administration's (FHA) ability to finance multifamily housing construction throughout the country. The joint letter backed a discussion draft released on April 26 by Sen. Bob Menendez (D-NJ) before a Senate Banking, Housing, and Urban Affairs Committee hearing, "Building Consensus to Address Housing Challenges." (Coalition letter)
Housing Supply Constraints
The industry coalition letter noted how FHA's base statutory limits define the number and size of multifamily mortgages that the Department of Housing and Urban Development (HUD) can insure nationwide. The letter also emphasized how FHA's multifamily insurance programs need to capture the true cost of current apartment construction using a more accurate price index.


Menendez, a senior member of the Banking Committee, stated during the hearing that his measure would increase FHA's multifamily lending authority throughout the country for the first time in 20 years, enable the agency to better support apartment construction, and ultimately bring down rental costs. (Hearing video clip and Menendez news release, April 26)


FHA's statutory limits are now significantly below current multifamily construction costs, which poses an unintentional regulatory barrier to middle-income housing.


The joint letter also recommended that FHA track residential construction costs more accurately by changing the index used for future annual inflationary adjustments—from the Consumer Price Index (CPI) to the Census Bureau's Price Deflator Index of Multifamily Residential Units Under Construction.


FHA's base limits for 2022 would be 26% higher than their current estimates by using the Price Deflator index instead of CPI.


FHA's current limits and inaccurate price index now consider communities throughout the nation—from Columbia, South Carolina to Cleveland, Ohio—as "high-cost areas," thereby constraining urgently needed workforce housing projects across the country.
Other Legislation
Other housing issues discussed during the hearing included zoning and land use regulation, limiting regulation, and the Low-Income Housing Tax Credit (LIHTC).


Senate Banking Committee Ranking Member Tim Scott (R-SC), above, discussed his newly proposed discussion draft of the Renewing Opportunity in the American Dream (ROAD) to Housing Act, which seeks to reform housing programs and prioritize HUD grants to recipients located in communities designated as Opportunity Zones.


The National Multifamily Housing Council (NMHC) and National Apartment Association (NAA) submitted testimony for the April 26 committee hearing. (NMHC news release summary, May 1)
As Congress aims to advance bipartisan housing bills in the coming months, The Roundtable will continue to support innovative policy solutions and development incentives to develop increase the supply of affordable housing.
# # #