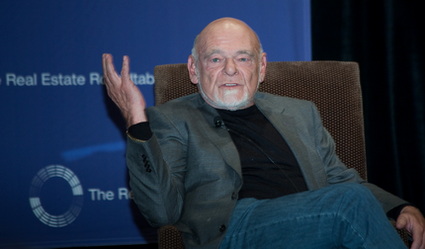 Sam Zell, the founder and chairman of Equity Group Investments died yesterday due to complications from a recent illness. Mr. Zell was a leader in modernizing the REIT structure and was well known for his ability to revive distressed real estate assets, as well as turnaround troubled manufacturing, retail, travel, healthcare, and energy businesses. (Fortune and Wall Street Journal, May 18)
Equity Residential, the multifamily REIT Zell founded, released a statement mourning the death of its founder and chairman, noting he led the transformation of the public real estate market, and that under his leadership, grew the company into a $31B apartment owner, developer, and operator listed on the S&P 500 (NYSE: EQR).
Mark Parrell, Equity Residential President and CEO, and member of The Real Estate Roundtable Board of Directors said, "The world has lost one of its greatest investors and entrepreneurs. Sam's insatiable intellectual curiosity and passion for deal making created some of the most dynamic companies in the public real estate industry."
Real Estate Roundtable President and CEO Jeffrey DeBoer said, "Sam was very quick to see the potential economic consequences of policy actions. He was a master of making complex issues simple and he was unambiguous in offering what could always be called a very unique and valuable perspective on national policy issues. His straight talk, clear vision and philanthropic generosity will be deeply missed. "
See www.samzelllegacy.com for a video retrospective of his many accomplishments and contributions to the investing and philanthropic communities.
# # #