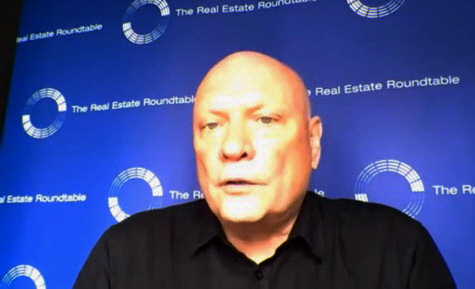 Roundtable President and CEO Jeffrey DeBoer, above, discussed the government's legislative and regulatory responses to the economic impact of the coronavirus pandemic – and what those policies mean for commercial real estate – in a BisNow webinar yesterday and Real Estate Executive Council Town Hall today. (Watch April 30 Bisnow interview)
The discussions addressed the Paycheck Protection Program (PPP), new Federal Reserve credit lending facilities and the need for a national renter assistance program.


DeBoer noted that the federal response to the pandemic's economic shockwave have provided bridge relief, and that the Small Business Administration's (SBA) PPP and the Fed's TALF credit facility could be improved to increase their effectiveness.


The Roundtable's Covid-19 Resource Center includes an "8-Point Plan" to improve the PPP. Additionally, the SBA on April 29 released an updated PPP FAQs document

.
Restoring The Rent Obligation Chain & Future Issues
DeBoer emphasized in his discussions that there is a vital need to "restore the rent obligation chain" to benefit business and residential tenants, owners, lenders, local budgets and retirement investments. (Bisnow video)
Before the pandemic crisis, there was clarity on the likely income real estate assets could generate by rental obligations and contracts. However, now those income streams are impaired. The future of certain businesses are unknown; tenants in shared buildings may default; and how employers can retain or regenerate jobs is uncertain. DeBoer noted that these challenges can be addressed by fixing the rental obligation chain.


DeBoer also said future issues that should be addressed include business liability, as building owners anticipate the return of occupants, workers and visitors – along with government support for a Pandemic Risk Insurance Program, which could be modeled on the highly successful Terrorism Risk Insurance Program established in the wake of 9/11.


The Real Estate Roundtable recently established a Building Re-Entry Working Group to address issues associated with building re-entry, as state and local authorities seek to re-start economic sectors and allow people to return to work.


DeBoer also discussed what future legislative packages may include to jumpstart the economy, including infrastructure investment.
Other Roundtable videos address how the crisis has affected real estate tax issues, along with other topics, on its Youtube channel.
# # #