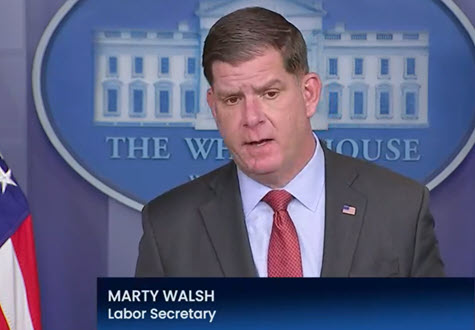 U.S. Department of Labor Secretary Martin Walsh will address back-to-the-workplace issues in a March 18 virtual town hall with Roundtable members. Participants will also include Roundtable Chair John Fish (Chairman and CEO, Suffolk); Beacon Capital Partners President and CEO Fred Seigel; Boston Properties CEO Owen Thomas; and Roundtable President and CEO Jeffrey DeBoer. Roundtable members were sent an exclusive registration invitation this week via email. (Roundtable Meetings contact)
Reopening Momentum
"Americans have learned to deal and cope and live with the coronavirus," Secretary Walsh recently told Insider (March 4). More employees coming back to the office can "add to job creation and job growth" he explained, as restaurants, retail shops, and other small businesses cater to returning workers.

The reopening theme was also the focus of a March 9 letter to Senate and House leaders signed by over 200 organizations and companies, including The Real Estate Roundtable. The coalition urged lawmakers to fully reopen Capitol Hill buildings by July 11 "in a way that is safe for all with security measures already being used in many state legislatures." (Coalition letter, March 9)

In addition to The Roundtable, other real estate organizations signing the letter to re-open Capitol Hill included the American Hotel & Lodging Association; American Resort Development Association; Building Owners and Managers Association; CRE Finance Council; ICSC; NAIOP, Commercial Real Estate Development Association; and the National Apartment Association.
2022 Roundtable Policy Agenda
Reopening businesses and the country is an important priority noted in The Roundtable's 2022 Policy Agenda: "Connection, Commitment, and Collaboration - Supporting Federal Policy Through Experience and Innovation in 2022" sent this week to Roundtable members.


In the policy agenda's introduction, John Fish, above right, and Jeffrey DeBoer, above left, emphasize the national need for a safe and successful return to the physical workplace.


"Our state and local economies—as well as our long-term global competitiveness—depend heavily on the innovation, collaboration, and productivity fostered by an in-person work environment," Fish and DeBoer stated.


The Roundtable's policy agenda states that the nation's long-term health, economic growth, and strength of small businesses and local governmental budgets all require safe back-to-workplace encouragement.
Policy Agenda Issues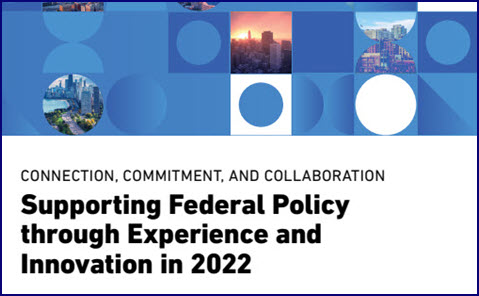 The Roundtable's policy agenda publication outlines our issue priorities for the year ahead that aim to restore economic stability and expand growth opportunities for local communities and the industry. Specific policy sections include:


The Roundtable encourages our members and partner organizations to share the content from our policy agenda on your social media channels or websites by using our communications toolkit. You may also follow us on social media for RER updates and the latest developments in DC via LinkedIn or Twitter:
# # #