The Real Estate Roundtable this week announced its new FY2022 leadership, with John F. Fish (Chairman & CEO, Suffolk), above, elected as Chair for a three-year term starting July 1, 2021 – following an effective, productive term by Immediate Past Chair Debra A. Cafaro (Chairman & CEO, Ventas, Inc.). The Roundtable's membership also approved a 22-member Board of Directors and committee officers. ( Roundtable news release, Aug. 5)
Policy Leaders
"I am honored and humbled to assume this new role at such a pivotal moment for the real estate industry. Our communities are facing a host of challenges – from unprecedented political polarization, to the growing threat of climate change, to the comeback from the global pandemic – but where we see obstacles ahead, we also see opportunity to expand jobs, provide housing, and assist businesses evolve in the post-Covid economy," said John Fish, Real Estate Roundtable Chair.


Fish also recently discussed infrastructure issues, the impact of the pandemic on commercial real estate and the industry's leadership role in national policy issues with Roundtable member Willy Walker (Chairman and CEO of Walker & Dunlop) on the Walker Webcast. (Bisnow and Connect, July 21 and Roundtable Weekly, July 23)

The Roundtable's Immediate Past Chair, Debra Cafaro noted, "It has been an honor and privilege to serve as chair for the last three years, and I am delighted to pass the baton to my friend and colleague John Fish. John is uniquely well-positioned to lead this organization as we move forward with the issues of economic recovery from the pandemic, job creation, sustainability, infrastructure and tax policy, which are at the forefront of policy debates in Washington."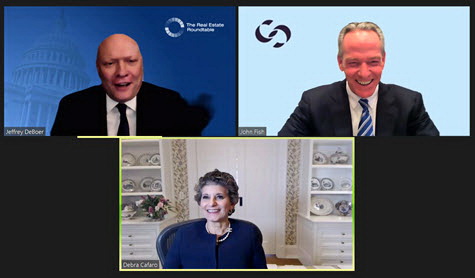 Photo - center: Debra Cafaro, top right: John Fish, top left: Jeffrey DeBoer
Cafaro was recently recognized as a "Diversity Champion" for her efforts with The Roundtable and her company Ventas on equity, diversity and inclusion by Real Estate Forum magazine in their "Women of Influence" July-August issue. The Forum's sister publication, GlobeSt.com, also featured the award winners.


Roundtable President and CEO Jeffrey DeBoer commented, "We are committed to sustainable national policies that reinforce and expand long-term economic growth and opportunities for all, spur job creation and encourage capital formation." DeBoer added, "The real estate industry provides jobs for tens of millions of people, is a significant source of revenue for local governments to help fund schools, hospitals and much needed community services, and is a key investment allocation for pensions and other retirement savings funds. I thank Debra for her leadership, and look forward to working closely with our new chair John Fish on these policy issues and to continuing The Roundtable's fact-based, data driven advocacy work."


The Roundtable recently released its 2021 Annual Report, which shows its effective policy activities in the areas of tax … capital and credit … housing and infrastructure … energy and climate … and homeland security. The publication's introduction also addresses The Roundtable's path ahead as the industry seeks to emerge out of the pandemic stronger than ever.
Roundtable Board and Committee Leadership
The Roundtable's membership represents over 3 million people working in real estate; some 12 billion square feet of office, retail, and industrial space; over 2 million apartments; and more than 3 million hotel rooms. It also includes senior, student and manufactured housing as well as medical office, life science campuses, data centers, cell towers, and self-storage properties. The collective value of assets held by Roundtable members exceeds $3 trillion.
# # #