The U.S. Department of Energy (DOE) recognized The Real Estate Roundtable this week as an inaugural "ally" of the Better Climate Challenge (BCC), a voluntary program to encourage private and government owners of buildings and industrial plants to cut their GHG emissions in half. (Climate Challenge Factsheet | FAQs | BCC Launch video, Feb. 28)
Better Climate Challenge & CRE
"The Real Estate Roundtable is proud to partner with the Department of Energy as an 'ally' in the Better Climate Challenge," said Roundtable Chair John Fish, above, (Chairman and CEO, Suffolk). "As leaders in the CRE industry, our members welcome opportunities to innovate with DOE and other federal agencies to reimagine how our nation's buildings can optimize efficiency, slash GHG emissions, and draw electricity from a cleaner grid.


"Partnerships with DOE offer significant opportunities to focus on retrofitting older buildings," Fish continued. "Seventy-five percent of U.S. buildings were constructed in the last century. The greatest and most positive impact our industry can have on the climate crisis is to make smart investments that modernize the apartments, office buildings, and other structures where our communities live, work, learn, and socialize."


The BCC to date has received commitments from more than 90 organizations from various industries, including six companies represented by Roundtable members – Empire State Realty Trust, Hilton, Jamestown LP, LaSalle Investment Management, Lendlease, and MetLife Investment Management.


Other real estate industry trade groups who are designated "allies" of the BCC include the Building Owners and Managers Association International (BOMA) and the American Hotel & Lodging Association (AHLA).
Program Requirements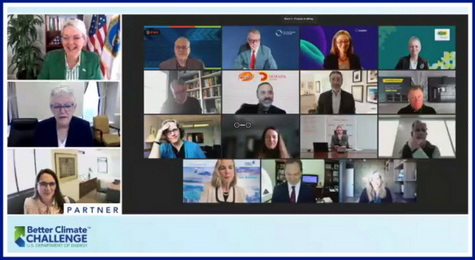 DOE Secretary Granholm, top left, officially launched the BCC on Feb. 28 during an executive discussion with White House National Climate Advisor Gina McCarthy, middle left, Housing and Urban Development Secretary Marcia Fudge and committed partner organizations.


The key element of DOE's voluntary challenge is for companies to commit to reduce direct emissions ("scope 1"), and emissions from electricity purchases ("scope 2"), by 50% over 10 years. There is no requirement to quantify or reduce indirect "scope 3" emissions.


The 10-year window is measured from a baseline of up to five years before a company joins the program.


Commitments to reduce emissions must be across a building portfolio. DOE explained that to reach the 50% emissions reduction target, companies can tally their long-term clean power purchase agreements (PPA) and associated renewable energy certificates (RECs). PPAs and RECs are increasingly common strategies used by CRE and other sectors to help deliver more renewable energy to the electricity grid. (Roundtable Weekly, November 5, 2021)


Participating companies must also pursue an efficiency target, to prioritize energy savings that will contribute toward the 50% reduction in portfolio-wide emissions over a decade.


Companies joining the program must pledge to share energy and emissions data for 10 years through EPA's Portfolio Manager, publicly report on progress, participate in peer-to-peer exchanges, and help develop industry best practices.

Businesses who want to pursue "partnership agreement" – or trade organizations who want to participate as an "ally" – with DOE's national leadership initiative on climate can consult with BCC online.
# # #