Press Release
Roundtable Releases FY2023 Annual Report, "Sustained Strength, Sustained Solutions"
August 11, 2023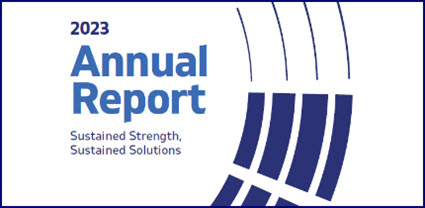 The Real Estate Roundtable has released its FY2023 Annual Report, which coincides with the June 30 conclusion of the organization's fiscal year. The report details how the industry experienced significant transformation due to the global pandemic—yet emerged resilient and adaptive, achieving successes over the past 12 months on several national issues in the tax, energy, and capital formation policy areas.
Roundtable Policy Issues
In the introduction to "Sustained Strength, Sustained Solutions," Roundtable Chair John F. Fish (Chairman & CEO, Suffolk) and Roundtable President and CEO Jeffrey DeBoer state, "Adapting to this new reality requires us to rethink how businesses and people use offices, retail and entertainment spaces, housing, medical care, and more. Future buildings must accommodate the changes brought on by the pandemic, as well as those that accompany the rapidly evolving artificial intelligence and technological world. The real estate industry is at the center of this transition, where the future of work, the future of housing, the future of our communities, and much more are being reimagined before our eyes."
The Roundtable leaders add, "However, we are also mindful that embracing these changes is not without its costs and time constraints, and as has proven in the past to be true, the industry's ability to respond to these changes will be inhibited or encouraged by public policy actions."
The Roundtable's FY2023 Annual Report details the organization's mission, recent activities, and offers potential policy solutions to today's pressing and far-reaching industry challenges, including:
# # #