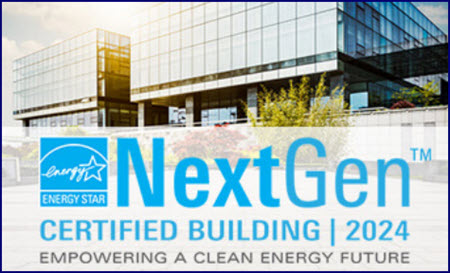 The Real Estate Roundtable
submitted comments
to the U.S. Environmental Protection Agency (EPA) yesterday on the agency's proposed voluntary label for low-carbon buildings. (
Roundtable letter
, March 2)
Voluntary Building Label
Roundtable Recommendations
The Roundtable's SPAC, chaired by Tony Malkin, above left, (Empire State Realty Trust Chairman President and CEO) and vice-chaired by Ben Myers, right, (BXP Senior Vice President, Sustainability), convened a working group to develop the comments submitted to EPA.
The Roundtable stated that NextGen recognition criteria "must be grounded in financial performance that offer building owners reasonable returns on their investments."
The Roundtable's comments suggested refinements to improve EPA's proposed components, including:

Efficiency: Significant and demonstrated reductions in a building's energy use should be eligible for the NextGen label (as an alternate, additional criterion to EPA's proposal that only ENERGY STAR certified buildings could qualify).
Renewable Energy: The NextGen proposal would require that 30% of a building's energy use must derive from renewables.

The Roundtable recommends that the level should start at 20% and

adjust over time to reflect the changing status of the electric grid as it decarbonizes

through increased reliance on solar, wind, and other clean power sources.

GHG Reductions: The Roundtable supports EPA's proposal for a GHG "intensity target" that reflects a building's unique weather conditions by a factor known as heating degree days (HDD).

The Roundtable worked closely with EPA in the pre-pandemic era to consider HDD as a key variable in the underlying ENERGY STAR building score process. (

Roundtable Weekly

, July 19, 2019)

Renewable Energy Certificates (RECs): The Roundtable explained

that voluntary NextGen recognition can provide much-needed guidance on corporate accounting for REC purchases and enhance credible claims on the environmental benefits from offsite clean power procurement.
The Roundtable further advised EPA that it should conduct a pilot of the low-carbon label with private and public building owners before broad release to U.S. real estate markets. EPA intends to make the NextGen label available in 2024. # # #