President Trump today signed a spending measure to fund the government until Dec. 21, buying time for policymakers to negotiate over the key issue of funding a border wall on the Mexican border. (RollCall, Dec. 7)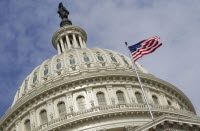 The 115th Congress is now scheduled to end on Dec. 21.
Today was the original deadline for funding the government's FY2019 budget (through Sept. 30, 2019). The short-term Continuing Resolution passed by Congress this week accommodated observances in honor of former President George H. W. Bush. The extension includes funding for the National Flood Insurance and EB-5 investment programs until Dec. 21.
Policymakers will now focus on an appropriations package affecting several government agencies, including the Department of Homeland Security. If an agreement on funding is not reached for FY2019, they may pass another short-term extension or face a partial shutdown.
A key issue in the funding negotiations is construction of a wall along the U.S.-Mexican border. The president is scheduled to meet with Senate Minority Leader Chuck Schumer (D-NY) and House Minority Leader Nancy Pelosi (D-CA) on Tuesday about his initial request for at least $5 billion to build the wall. Trump told a law enforcement conference today, "Congress must fully fund border security in the year-end funding bill." (NBC News and Fox News, Dec. 7)
Schumer said yesterday that a bipartisan Senate plan for $1.6 billion in border security funding does not include money for a wall, adding that the money "can only be used for fencing" and technology security features. Pelosi, who is likely to become the next speaker of the House, yesterday referred to the construction of a wall as "immoral, ineffective, and expensive." (AP, Dec. 6)
Sen. Lindsey Graham (R-S.C.) met with Trump this morning, tweeting that the president "indicated he supports" adding a bipartisan criminal justice reform bill to the year-end spending measure - potentially adding another complicating factor to negotiations. (CNBC)
Separately, a House GOP tax bill introduced last week, which includes tax "extenders" and technical corrections of importance to commercial real estate, faces an uncertain future in the remaining weeks of the lame duck session. Congressional tax-writers and leaders do not appear to be any closer to an agreement that would include certain tax provisions in the end-of-year spending bill, such as a technical correction related to the depreciation schedule for nonresidential, interior real estate improvements. (Roundtable Weekly, Nov. 30 and BGov, Dec. 7)
The 115th Congress is scheduled to end on Dec. 21.