Comprehensive legislative reforms to the EB-5 investment program are needed to provide stronger safeguards to combat fraud and safeguard national security while balancing rural and urban areas' access to the program, according to a coalition of 11 national industry organizations. (Coalition letter, March 8)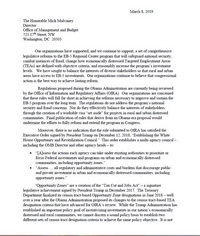 A coalition of 11 national industry organizations recommends comprehensive legislative reforms to the EB-5 investment program are needed to provide stronger safeguards to combat fraud and safeguard national security while balancing rural and urban areas' access to the program. ( Coalition letter , March 8)
The coalition—in a letter sent today to the Office of Management and Budget's (OMB) Director Mick Mulvaney—maintains that regulations proposed during the Obama era lack national security and anti-fraud provisions essential to overhaul the program. These proposed regulations also do not provide for a "set aside" of EB-5 investment visas for projects in so-called "Targeted Employment Areas" – a key policy component of stakeholder negotiations to encourage fair access to EB-5 capital in urban, suburban, and rural communities.
The letter also recommends that EB-5 Targeted Employment Areas should overlap with Opportunity Zones designated by the Treasury Department in June 2018. Both geographic designations are census tract-based and share the common objective to channel investment capital to the nation's distressed communities. "We cannot discern a sound policy basis to establish two different sets of census tract designation criteria to achieve the same policy objective," the organizations wrote.
President Trump on December 12, 2018 signed an Executive Order directing all federal agencies (including OMB) to consider how their programs can enhance revitalization efforts in new Opportunity Zones. (White House statement and PBS Video, Dec. 12, 2018)
The coalition letter concludes that final publication of these rules by the Department of Homeland Security would undermine congressional efforts to improve and sustain the EB-5 program over the long term. "Our organizations continue to believe that congressional action is the best way to achieve lasting reform," the letter states.
Sen. Tim Scott (R-SC) – who led the effort in Congress for enactment of the Opportunity Zones program – discussed its goals and incentives on Jan. 29 in a discussion with Roundtable member Geordy Johnson (CEO, Johnson Development Associates, Inc.) during The Roundtable's State of the Industry Meeting (Roundtable Weekly, Feb. 15)