The U.S. Securities and Exchange Commission (SEC) on Feb. 9 proposed expansive, new disclosure requirements for private investment funds, while an anticipated proposed rule that could require issuers to report on GHG emissions has been delayed. (Wall Street Journal Feb. 9 and Bloomberg, Feb. 8)
Proposed Rules & Private Funds
This week's proposed rule, if approved, would require private-equity and hedge-fund managers to provide statements on fund performance, compensation, fees and expenses. The proposal passed the Commission on a 3-1 party-line vote, with one dissenting Republican. (PoliticoPro, Feb. 9)

Managed Funds Association President and CEO Bryan Corbett responded, "The SEC's proposed additional regulations on private funds will harm the most sophisticated investors, including pensions, endowments and foundations, who rely on these funds to serve their beneficiaries. The agency's treatment of private funds as if they were serving retail investors is misguided." (Pensions and Investments, Feb. 8)
Climate Risk Disclosures & CRE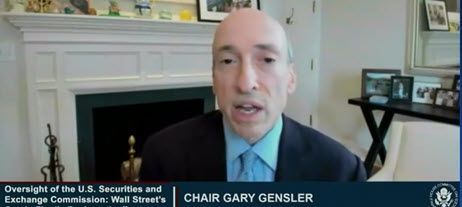 Reps. Andy Barr (R-KY), French Hill (R-AR) and Bill Huizenga (R-MI) on Oct 6, 2021 wrote to SEC Chair Gary Gensler, above, claiming the SEC lacks jurisdiction to create and implement policies affecting private, non-market companies. "Lest there be any doubt, we wish to emphasize that the SEC has no authority to impose public disclosure obligations—regarding climate or otherwise— on private businesses that have not accessed the public capital markets," the Members wrote.
Bloomberg reported this week that the SEC has delayed the release of a separate proposed rule that could require REITs and other issuers to disclose GHG emissions and climate-related financial risks in their Commission filings. (Bloomberg, Feb. 8)
The climate risk proposal may extend into March or later, according to Bloomberg. Gensler previously announced it would be released last year. (Roundtable Weekly, June 11, 2021 and Reuters, May 6, 2021).
The SEC's climate proposal is widely expected to evolve into the first-ever federal rule that will require companies to measure and report on GHG emissions they directly cause ("Scope 1"), and emissions attributable to their electricity purchases ("Scope 2").

A brewing controversy is whether the SEC might also direct issuers to estimate and report on indirect "Scope 3" emissions up and down corporate supply chains. (Reuters, Jan. 19)

If the Commission potentially mandates "Scope 3" disclosures, the requirement could possibly impose new obligations on some commercial property owners to report on the emissions of their tenants – and some banks to report on the emissions of their borrowers.

Pre-rulemaking comments filed by The Roundtable last year, developed in close coordination with Nareit, point out that building owners should not be required to disclose tenant emissions simply because property owners do not even have access to leased-space energy data in many instances.

Any proposed rule from the SEC will trigger a public feedback process, followed by internal agency review, before it would take effect.
The SEC's climate rule is considered a major environmental initiative of the Biden Administration, particularly as GHG reduction provisions in the Build Back Better Act face a steep climb to pass the Senate. (Bloomberg, Feb. 8)
# # #