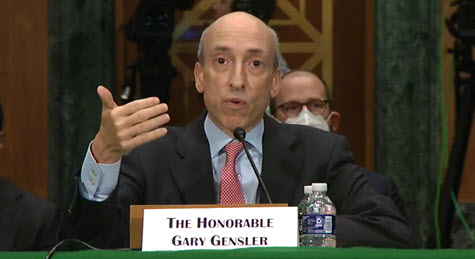 Senate Banking Committee members challenged Securities and Exchange Commission (SEC) Chair Gary Gensler,
above
, during an
oversight hearing yesterday
about the agency's
proposed climate disclosure rule
. (
CQ
, Sept. 15 and
Yahoo Finance
, Sept. 16)
SEC Authority Questioned
Committee Ranking Member Pat Toomey (R-PA) opened the hearing by stating, "The SEC is wading into controversial public policy debates that are far outside its mission and its expertise."
Toomey pressed Gensler about a June Supreme Court ruling that executive branch agencies "cannot use novel interpretations of existing law to pretend they have legal authority to support sweeping policy changes, including on climate change, that Congress never intended." (Toomey Opening Statement)
Toomey asked, "In light of the EPA v. West Virginia case, have you given any consideration to rescinding that rulemaking?" Gensler replied that the Commission is "seriously" considering the high Court ruling and 14,000-plus public comments to assess its legal authorities to ensure that registered companies provide material, decision-useful information about climate risks to investors. (SEC docket with list of organizations and individual comments)
Senator Jon Tester (D-MT) explained that the SEC's proposal would require farms and other small businesses to estimate and disclose carbon emissions because they sell products and services to public companies. Senators Mike Rounds (R-SD) and Steve Daines (R-MT) shared Tester's concerns (CQ, Sept. 15)
A CRE Priority
The SEC's climate proposal, if finalized, would require all SEC registrants to quantify direct GHG emissions ("Scope 1") and emissions attributable to electricity purchases ("Scope 2") through annual 10-Ks and additional filings. (SEC News Release | Proposed Rule | Fact Sheet, March 22)
The SEC also proposed that a company would need to report on "Scope 3" indirect emissions if they are "material" to investors. In June 10 comments, The Roundtable objected to the Commission's proposed Scope 3 approach because real estate companies neither control nor have access to data regarding emissions from third parties in their "value chains." (Roundtable Weekly, June 10 and June 24)
A joint letter filed on June 13 from 11 national real estate industry trade groups echoed the issues raised by The Roundtable in its earlier comments.
The SEC is expected to issue a final climate reporting disclosure rule sometime this fall. If the Commission votes to regulate Scope 3 emissions, the recent SCOTUS decision in
West Virginia v. EPA
is likely to spark litigation, raising questions as to whether the SEC has authority from Congress to regulate climate disclosures and emissions. # # #