Roundtable Weekly
Shifting Negotiations Aim for Uncertain Pandemic Relief Deal, Legislation Unlikely Before Election; Fed Chairman Warns Lack of Fiscal Support Risks 'Tragic' Consequences
October 10, 2020
Negotiations about a pandemic relief package shifted dramatically this week in Washington, ranging from complete cancellation to industry-specific assistance to discussions reported today about a new $1.8 trillion White House proposal. (Wall Street Journal and PoliticoPlaybook Oct. 9)
President Trump tweeted today, "Covid Relief Negotiations are moving along. Go Big!"
A framework for an agreement before the election is possible, yet the timeline for developing specific legislation and passing a broader package remains doubtful.
Senate Majority Leader Mitch McConnell (R-KY) today called coronavirus negotiations "murky" and added, "I think the murkiness is a result of the proximity to the election, and everybody kind of trying to elbow for political advantage. I'd like to see us rise above that ... but I think that's unlikely in the next three weeks." (The Hill, Oct. 9)
The Senate this week is focusing most of its attention on confirmation hearings for Supreme Court nominee Amy Coney Barrett, despite three GOP Senators having tested positive for COVID-19 and an additional three in quarantine. (The Hill, Oct. 8)
Another challenge among GOP senators is attracting support for any pandemic relief package over $1 trillion. (Roundtable Weekly, Oct. 2)
White House support for a $1.8 trillion package reported today remains below the $ 2.2 trillion coronavirus relief bill passed last week by House Democrats. Policy differences also remain on key areas such as liability protections for business, aid for state and local governments and the specific structure for additional federal unemployment benefits. (Associated Press, Oct. 9)
House Speaker Nancy Pelosi (D-CA) on MSNBC today said, "You know, the devil and the angels are in the details. And so it—part of it is about money, and part of it is about policy," she said. (Wall Street Journal, Oct. 9)
Pelosi earlier in the week suggested that if no stimulus deal can be reached before the election, virus relief funding could be added to a must-pass spending bill needed to keep the government open after Dec. 11 during a post-election, lame-duck session of Congress. (Roundtable Weekly, Oct. 2 and BGov, Oct. 7)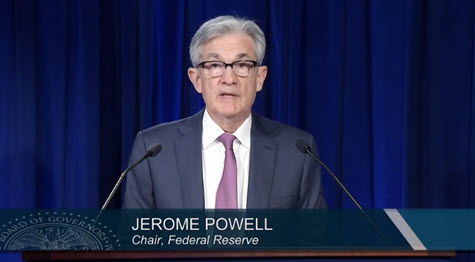 Federal Reserve Chair Jerome Powell, above, on Tuesday encouraged Congress and the White House to pass greater fiscal support for the economy, households and businesses.
Powell stated, "… a prolonged slowing in the pace of improvement over time could trigger typical recessionary dynamics, as weakness feeds on weakness. A long period of unnecessarily slow progress could continue to exacerbate existing disparities in our economy. That would be tragic, especially in light of our country's progress on these issues in the years leading up to the pandemic." (Fed speech, Oct. 6)
Powell also warned that the economic expansion and recovery from the coronavirus is far from complete. "Even if policy actions ultimately prove to be greater than needed, they will not go to waste. The recovery will be stronger and move faster if monetary policy and fiscal policy continue to work side by side to provide support to the economy until it is clearly out of the woods," he said.
# # #