On Sept. 5, The Real Estate Roundtable urged the Florida Real Estate Commission to clarify their implementation of a recently enacted law that could have negative consequences for foreign real estate investment in the state. Twenty states have enacted restrictions on foreign investors in real estate or agricultural land, eight states are considering similar measures, and other states are exploring the issue. (Roundtable letter)
Restrictions on Foreign Investment
Governor Ron DeSantis signed into law Florida Senate Bill 264 (SB 264) on May 8. The new law aims to limit and regulate the sale and purchase of certain Florida real property by[SS4]  "foreign principals" from "foreign countries of concern." The Florida Real Estate Commission will implement the new law. (SB 264 text).
Foreign investment is a major source of capital funding for U.S. commercial real estate projects, leading to job creation and economic growth for communities nationwide. Real estate is a critical element of Florida's economy, and the state is one of the most popular states for foreign investment. Property taxes contribute over 18% of Florida's overall tax revenue.
The letter from Roundtable President and CEO Jeffrey DeBoer notes that approximately $1.5 trillion of U.S. commercial real estate debt will come due in the next three years. Foreign equity investments in U.S. assets are often an important source of capital as commercial real estate owners seek to restructure, refinance or sell their properties.
Roundtable Concerns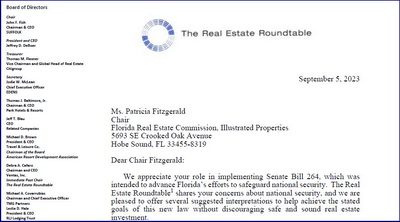 The Roundtable's letter supports efforts to protect the nation's economic, military, and civil security, as well as the integrity of commercial real estate investments. The letter also reflects Roundtable members' concerns that the new law may have a chilling effect on foreign investment in Florida real property, hinder foreign investment in U.S. real estate by legitimate enterprises, and act as a barrier to capital formation by law-abiding entities.
The comments detail how SB 264 expands the scope of the law beyond its publicly stated intent, which could have negative repercussions for Florida real estate markets and capital formation. (Roundtable letter)
The Roundtable letter includes a request to clarify the definition of a "controlling interest" that impacts exceptions to the law based on an investor's meaningful ownership or influence. (SB 264 text).
The letter also requests the Florida Commission to "carefully consider the impact of your agency's interpretation and implementation efforts of this new law so that it does not prohibit major investments in the state, which are safe from control by foreign countries of concern and promote growth without sacrificing the security or economic interests of Florida."
The Roundtable continues to raise concerns about measures that may impair capital formation and supports the important role that legitimate foreign investment plays in U.S. real estate, the broader economy and job growth.
#  #  #
---