U.S. Department of Labor Secretary Martin Walsh discussed back-to-the-workplace and labor market issues with Real Estate Roundtable members today during a virtual town hall. Participants also included Roundtable Chair John Fish (Chairman and CEO, Suffolk); Fred Seigel (President and CEO, Beacon Capital Partners); Owen Thomas (CEO, Boston Properties); and Roundtable President and CEO Jeffrey DeBoer. (Watch video discussion)
Pandemic Labor Market
Fish, below left, opened the discussion by noting how the pandemic has changed the relationship of employees to their physical workplaces, which poses new challenges for real estate. He cited a recent Pew Research report showing that the majority of teleworkers feel more productive at the office, yet appreciate how a hybrid work model improves their work-life balance.


Secretary Walsh, below right, commented on how the overall labor market has bounced back from the COVID-19 downturn more swiftly than in prior recessions – and that the nation is continuing a "worker-centered" economic recovery.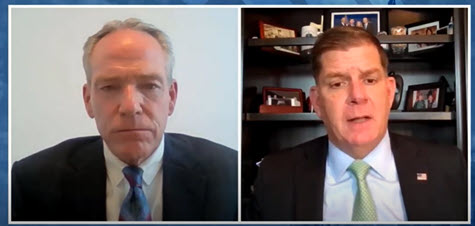 Workplace Return & CRE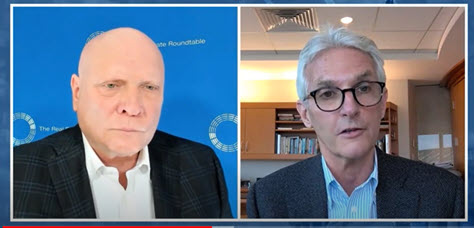 During the town hall discussion, Seigel, above right, shared an overview of research underway by the University of California, Berkeley, with The Roundtable's DeBoer, above left. Preliminary findings show that further delays of employees' return to the workplace pose major risks to local government budgets and the health of cities – particularly for lost municipal revenues from transit services and from property, sales, and hotel-stay taxes.


Seigel stated that the repercussions of the pandemic could reduce near-term revenue for certain municipalities between 10 to 18 percent per year.


He added that property owners "… need to create environments that address employees' health and wellness concerns." Seigel noted how state-of-the-art building systems can share health-related data in real time with tenants. "The transparency and trust between tenants and landlords has never been more important than it is today," he said.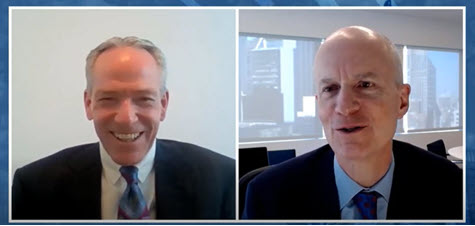 Thomas, above right, said, "You have to think about the office not as an obligation, but as a destination." He added that property owners, tenants and local policy makers should consider various efforts to attract employees back to the workplace, including "… amenities, indoor air quality, sustainability features, the environment around the building and proximity to transit."


"The future is some form of hybrid work, which is the reality of the market right now," Thomas commented. He also stated that "Our leasing activity is at pre-pandemic levels, so clearly businesses are planning on using offices in the future but perhaps in a different way."


Return-to-office issues were also recently addressed on CNBC's Squawkbox on March 10 by Roundtable Chair Emeritus (2015-2018) Bill Rudin (Co-Chairman and Chief Executive Officer, Rudin Management Company. Squawkbox hosted Roundtable Member Scott Rechler (CEO, RXR Realty) to discuss the CRE market on March 17.
Biden Administration Announces "Clean Air In Buildings" Challenge
In related news, the White House and the U.S. Environmental Protection Agency (EPA) yesterday released a

"best practices" guide to improve indoor air quality

and reduce the spread of COVID-19 inside buildings. (

White House Fact Sheet

;

EPA Guidance)


The "Clean Air in Buildings Challenge" is styled as a "call to action" that encourages building owners and managers to take steps such as:

Create a clean indoor air "action plan" (e.g., regular HVAC inspections and maintenance)
Optimize fresh air ventilation (e.g., use economizers, open operable windows)
Enhance air filtration (e.g., install MERV-13 filters)
Communicate IAQ practices with building occupants
Reopening businesses and the country is an important priority in The Roundtable's 2022 Policy Agenda: "Connection, Commitment, and Collaboration - Supporting Federal Policy Through Experience and Innovation in 2022," sent this week to Roundtable members.
# # #