The significant, positive role of international travel and tourism in boosting the U.S. economy, creating American jobs and helping the foreign trade imbalance was the focus of efforts by the VisitU.S. Coalition this week on Capitol Hill.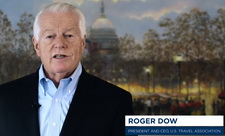 A VisitU.S. coalition video with CEO testimonials was released to address the drop of 7.4 million international visitors to America from 2015-2017. Roger Dow, President and CEO of the U.S. Travel Association, above.
Roundtable President and CEO Jeffrey D. DeBoer joined coalition CEOs on Wednesday in Congressional meetings. The following day, a coalition video with CEO testimonials was released to address the drop of 7.4 million international visitors to America from 2015-2017. While foreign travel has increased globally, the U.S.'s reduced market share translates to 32 billion dollars in lost spending and 100,000 fewer jobs in this country. The drop in foreign visitation also widens the foreign trade imbalance, as spending by international visitors is the U.S.'s top service export accounting for 245 billion dollars in total travel exports in 2017. (Roundtable Weekly, June 8, 2018.)
Wyndham Hotel Group President and CEO Geoff Ballotti said, "We have had five or six great years of record growth in terms of international inbounds but the share that we are capturing is continuing to slip and that's what we are all very focused on – maintaining that great market share." (VisitU.S. video, June 28)
The coalition is urging Congress to reauthorize the Brand USAprogram, which is not supported by taxpayer dollars, but through fees on foreign visitors who do not require a visa when entering the U.S. Legislation is needed to authorize the program beyond 2020 — and ensure that visitor fees authorized for collection from 2021 to 2027 will not be diverted to the Treasury Department, as currently scheduled.
An FY2017 return on investment analysis showed each dollar of Brand USA marketing generated almost 28 dollars in visitor spending. Moreover, Brand USA-generated international visitor spending is estimated to have produced 486 million dollars in federal tax revenue, and another 526 million dollars in state and local tax revenue.

The economic importance of foreign travel and tourism to the United States' economy and commercial real estate industry was the focus of a panel discussion during The Roundtable's 2018 Annual Meeting this month.
– enlarge photo –

"Robust international travel helps to power the U.S. commercial real estate markets, not only hospitality properties but retail, attraction, health and investment properties as well," said DeBoer. "National tourism policies that boost overall economic growth, support and create jobs, and generate revenues help modernize our infrastructure, and generally improve the quality of life in our communities. The Real Estate Roundtable will continue our work with the VisitU.S. Coalition to emphasize that America is a uniquely welcoming, interesting and safe travel destination for international visitors," DeBoer added.
The meetings on Capitol Hill also focused on the need to improve the visa application process for foreign visitors. Other CEOs joining DeBoer in Wednesday's congressional visits were Roger Dow with the U.S. Travel Association; Katherine Lugar with the American Hotel & Lodging Association; Robert Cresanti with the International Franchise Association; Chip Rogers with the Asian American Hotel Owners Association; and Steve Shur with Travel Tech.
A panel discussion at The Roundtable's June 14 Annual Meeting focused on the travel and tourism issue. Participants included USTA's Roger Dow, AH&LA's Katherine Lugar, Senator Amy Klobuchar (D-MN) and Anthony E. Malkin (Chairman and CEO, Empire State Realty Trust). (Roundtable Weekly, June 15, 2018.)