The federal government will partially shutdown unless Washington policymakers can pass a year-end funding bill by midnight tonight. Negotiations over a spending measure have deadlocked over President Trump's request of at least $5 billion for construction of a wall on the Mexican border. (The Hill, Dec. 21)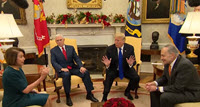 Negotiations over a spending measure have deadlocked over President Trump's request of at least $5 billion for construction of a wall on the Mexican border. (The Hill, Dec. 21)
The Senate passed a seven-week stopgap bill on Wednesday, which President Trump said he would not sign, due to the fact there was no funding for a wall on the southern border. On Thursday, the Republican controlled House passed its own version of a stopgap measure, which would add $5.7 billion for border security and $7.8 billion for disaster relief. (The Hill, Dec. 21) The Senate is expected to reject the House-passed measure in votes today – leaving the federal government on the precipice of its third shutdown in two years.
A December 10 meeting between President Trump and Democratic leaders resulted in sharp disagreements over the wall that played out before the media. "I am proud to shut down the government for border security," Mr. Trump told Senate Minority Leader Chuck Schumer (D-NY) and House Minority Leader Nancy Pelosi (D-CA) in the Oval Office. "I will take the mantle. I will be the one to shut it down," Trump said. (Wall Street Journal, Dec. 11)
A possible partial government shutdown of seven agencies, including the Department of Homeland Security (DHS), would furlough hundreds of thousands of workers and cost taxpayers millions.
A shutdown would temporarily halt DHS operations of the National Flood Insurance and EB-5 investment programs.

The federal government will partially shutdown unless Washington policymakers can pass a year-end funding bill by midnight tonight. (The Hill , Dec. 21)
If approximately 25% of the government shuts down tonight at midnight, a decision on funding could be pushed until the new Congress is sworn in on January 3 and Democrats assume the majority in the House. Minority Leader Nancy Pelosi (D-CA) is likely to be elected House Speaker, push for a stopgap Continuing Resolution, and seek to re-open the government at that time if it remains closed over the holidays.
In other policy news, the House voted 220-183 to advance legislation that would extend tax breaks for biodiesel and correct errors in the TCJA of 2017, including a provision that unintentionally lengthened the cost recovery period for improvements to the interior of nonresidential real estate. Both the House and Senate could take-up the legislation again after the new Congress convenes in January. (Bloomberg, Dec. 20)
In addition, after passing the House and Senate with rare bipartisan support earlier in the week, President Trump signed the First Step Act into law this afternoon. The new criminal justice reform legislation gives judges more leeway at sentencing for federal crimes, increases vocational and rehabilitation opportunities for incarcerated individuals to re-enter society, and expands early release programs. (New York Times, Dec. 18.)