The House Ways and Means Committee this week held the first in a series of hearings on how the Tax Cuts and Jobs Act (TCJA) is affecting job creation and the economy five months after its enactment.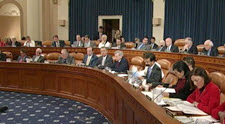 House Ways and Means Chairman Kevin Brady (R-TX) in his opening statement offered a list of favorable economic statistics and projections that he said are attributable to the new law
Treasury Assistant Secretary Sketches Timetable for Regulations Implementing Tax Reform
Certain provisions of the TCJA of interest to commercial real estate could be addressed in upcoming IRS guidance or in a congressional technical corrections bill.
Acting IRS Commissioner David Kautter on May 12 said that Treasury and the IRS hope to complete proposed regulations on section 199A passthrough deduction by mid- to late-July. (Tax Notes, May 15, "Kautter Talks Timelines for TCJA Guidance Projects" and Roundtable Weekly, May 4).
Kautter added that the target date for a notice of proposed rulemaking on section 163(j) business interest deduction limitation is late summer or early fall. (Roundtable Weekly, April 6).)
Natalie Tucker, legislation tax accountant at the Joint Committee on Taxation, recently said that the cost-recovery period for qualified improvement property rises to the level of consideration for a "technical correction." While Congress was formulating the TCJA, a new category—qualified improvement property—wasn't assigned a cost-recovery period, and fell to the 39-year period by default, rather than the intended 15-year period. That was not the intent of Congress and therefore qualifies for inclusion in a technical corrections bill, according to Tucker. (Bloomberg Law, May 11, "Agreement Reached on Three 'True' Technical Corrections")
Along with TCJA rulemaking and implementation, the legislation's impact on CRE will be a focus of discussion at The Roundtable's Annual Business Meeting and Policy Advisory Committee Meetings on June 14-15 in Washington, DC.