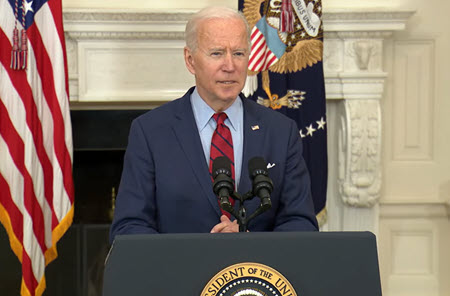 The White House this week announced a plan to create hundreds of thousands of affordable housing units in the next three years, with the goal of closing the nation's housing supply shortfall in five years. The Housing Supply Action Plan includes zoning incentives and new government financing to address an estimated shortfall of 1.5 million homes nationwide. (PoliticoPro, May 16 and Moody's Analytics, March 2021)
Comprehensive Approach

The White House proposes a range of administrative and legislative actions that aim to build and preserve rental housing for low- and moderate-income families. The Biden administration's proposed actions include:



Expanding and improving federal financing for affordable multifamily development and preservation using funds from prior COVID relief legislation.


Disposing of federal properties to create affordable housing for the homeless. Proposed regulations aim to make the disposition process easier to navigate for affordable housing developers and strengthen the process to identify suitable properties for potential developers.


Financing more than 800,000 affordable rental units by expanding and strengthening the Low-Income Housing Tax Credit (LIHTC). The proposal would infuse $55 billion to expand LIHTC and include a 10 percent annual increase in 9 percent allocations from 2022 to 2024—and a reduction in the 50 percent bond test to 25 percent from 2022 to 2026. (Multi-Housing News, May 18)


Working with Fannie Mae to invest in construction to permanent loans; and reforming the HOME Investment Partnerships Program (HOME).


Ensuring that more government-owned foreclosed homes go to owner-occupants or non-profits for rehabilitation, rather than to large institutional investors.


Rewarding jurisdictions that have reformed zoning and land-use policies with higher scores in certain federal grant processes, for the first time at scale.


Expanding federal financing of manufactured housing, accessory dwelling units (ADUs), 2-4 unit properties, and smaller multifamily buildings.
Transit-Oriented Development
The Housing Supply Plan also seeks to provide incentives to increase housing density around transit hubs, goals long-supported by The Roundtable. These actions include:



Leveraging transportation funding from the Infrastructure Investment and Jobs Act (IIJA) last November for transit-oriented programs to encourage state and local governments to boost housing supply. (Roundtable Weekly, Nov. 12, 2021)


Directing the Department of Transportation (DOT) to use IIJA

and other transit-oriented discretionary grant programs to encourage locally driven

land use reform, density, rural main street revitalization, and transit-oriented development

that integrate affordable housing. DOT earlier this year released three funding applications for competitive grant programs totaling nearly $6B in funding to achieve these goals. (

GlobeSt., May 18)


Updating DOT program guidelines to increase financial support for Transportation Infrastructure Finance and Innovation Act (TIFIA) program

projects that include residential development. (

President Biden Announces New Actions to Ease the Burden of Housing Costs | The White House

, May 16)
The National Multifamily Housing Council and National Apartment Association applauded the Biden administration plan. Their joint statement noted the housing supply crisis requires the private sector to work with local, state and federal governments to reduce regulatory burdens and encourage the development and rehabilitation of housing of all types and price points.
The Real Estate Roundtable's Research Committee's co-chairs have drafted a report on affordable housing that will be discussed at the Roundtable's Annual Meeting in June. Additionally, The Real Estate Capital Policy Advisory Committee (RECPAC) has formed an Affordable Housing Working Group, which is working with the Research Committee to develop proposals on expanding the nation's housing infrastructure.

# # #