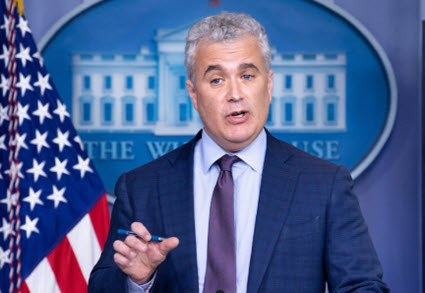 White House Chief of Staff Jeff Zients, above, directed Cabinet officials on Aug. 4 to increase the return of federal employees to their offices this fall as a "critical" part of fulfilling the mission of government agencies. The Real Estate Roundtable has urged President Biden and national policymakers for months to end government policies that encourage remote working arrangements for federal employees. (Government Executive, Aug. 7 | Axios, Aug. 4 | RER letter to President Biden, Dec. 12, 2022)
Back-to-Office Fed Policies
Zients informed administration officials, "As we look towards the fall, your agencies will be implementing increases in the amount of in-person work for your team. This is a priority of the president — and I am looking to each of you to aggressively execute this shift in September and October." (Reuters, Aug 5 and The Washington Post, Aug. 4)
Empty federal offices have depressed local economies, according to a July 18 Federal News Network (FNN) broadcast. (Listen or read transcript from Federal Drive with Tom Temin)
An updated list of agencies' return-to-office policies is available online through the Federal News Network. Meanwhile, Republican leaders on the House Oversight and Accountability Committee

have also urged agency officials to encourage a return-to-office, threatening this week to "

resort to compulsory measures

" in their probe of federal agencies' telework polices.
Roundtable Weighs In
In an April letter to all U.S. Senators, Real Estate Roundtable President and CEO Jeffrey DeBoer, above, emphasized, "The executive branch's current policies are undermining the health of cities, local tax bases, and small businesses. Federal agencies should return to their pre-pandemic workplace practices." (RER letter to the Senate, April 12).
In a similar letter to President Biden in December, DeBoer noted that federal telework policies were ignoring "the negative impacts of remote work on cities and communities, labor productivity, and U.S. economic competitiveness, as well as the quality of government services." (Commercial Observer, April 14 and RER letter to President Biden, Dec. 12)
# # #