Funding for the government will expire Sept. 30 if Congress cannot muster a short-term stopgap patch to keep federal agencies open and avoid a partial government shutdown. House Speaker Kevin McCarthy (R-CA) faces strong opposition from members of the conservative House Freedom Caucus to strike a deal with the Biden administration, which has submitted an additional $44 billion request for disaster relief, border security, and Ukraine. (CQ, Sept. 5 and AP, Aug. 21)
Flood Response Funding
An uncertain funding landscape dominates the prospects for legislative developments for the remainder of the year. If policymakers manage to pass a short-term "continuing resolution," it could require a follow-on "omnibus" budget package for 2024 that may serve as the only must-pass vehicle to move other policy changes through Congress.
As the hurricane season picks up momentum, one government program affecting commercial real estate that is subject to the Sept. 30 funding deadline is The National Flood Insurance Program (NFIP). Congress has enacted 25 short-term NFIP reauthorizations since 2017.
A new flood rating methodology (Risk Rating 2.0) in 2021 established by the Federal Emergency Management Agency (FEMA) has attracted additional disagreement among policymakers after it was reported that resulting rate hikes could cause the loss of coverage for hundreds of thousands of policyholders. (Associated Press, July 22)
The Roundtable is a long-standing supporter of a long-term reauthorization of the NFIP with appropriate reforms that create long-term stability for policyholders, improved accuracy of flood maps, mitigation reforms, enhanced affordability, and the acceptance of non-NFIP policies for commercial properties. (Roundtable Weekly, June 30)
Tax and Other Policy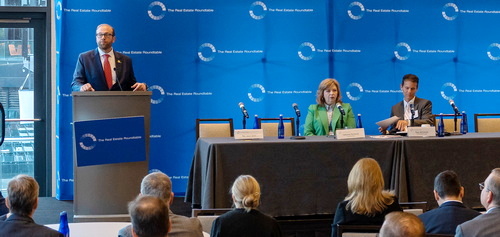 House Republican leaders hope to break an impasse in the GOP caucus over a tax relief package passed by the Ways and Means Committee that includes measures affecting commercial real estate. Committee Chairman Jason Smith (R-MO), above, spoke about his efforts to advance the tax measure during The Roundtable's recent Annual Meeting. (Roundtable Weekly, June 16 and June 9) 
The committee bill has not reached the House floor for a vote due to opposition by members from high-tax states who want the package to include relief from the $10,000 cap on state and local tax deductions (SALT), enacted in the GOP's 2017 tax law. (Washington Post, July 24 and  Roll Call). 
The tax package would extend expired business interest deductibility rules and 100% immediate expensing (bonus depreciation) for qualifying capital investments. Bonus depreciation is 80% in 2023 and gradually phasing down.
Two other tax issues with bipartisan support that may be folded into a negotiated end-of-year tax package are the expansion of The Roundtable-supported low-income housing tax credit and technical corrections to SECURE 2.0, a package of retirement provisions. (Tax Notes, Sept. 5)
Hearings & Climate Disclosure Rule
Securities and Exchange Commission (SEC) Chair Gary Gensler will testify before the Senate Banking Committee on Sept. 12, followed by an expected appearance before the House Financial Services Committee on Sept. 27. (PoliticoPro, Aug. 28)
Committee members are likely to question Gensler about a highly anticipated climate disclosure rule and SEC proposals impacting advisory client assets and cybersecurity risk management. (Thomson Reuters, Aug. 22, "SEC Plans to Finalize 30 Proposed Rules in Near Term")
The policy issues above and many more will be the focus of discussions during The Roundtable's Fall Meeting (Roundtable-level members only) on Oct. 16-17 in Washington.